DIY Coffee-Filter Wreath
Get Festive With a Coffee-Filter Winter Wreath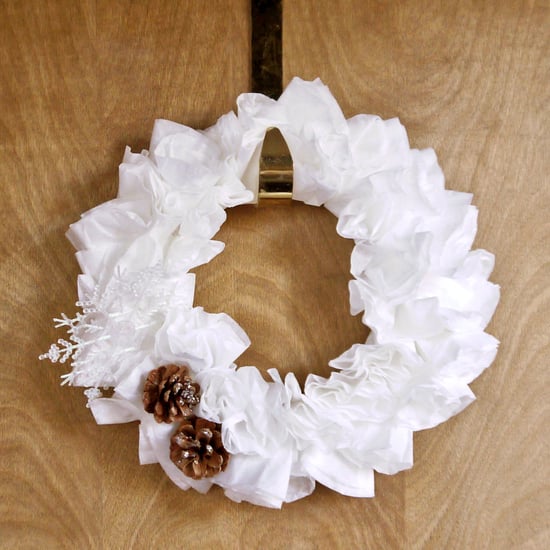 Make something really festive to adorn your front door this holiday season with the help of coffee filters from the dollar store. Upcycle a cardboard box for the base, and this decoration basically costs pennies to make. Adorn with acorns or plastic snowflakes, and you've got a wreath that's seriously pretty.
Here's how to make one.
What You'll Need:
Cardboard or foam board
Marker
Dinner plate
Soup bowl
Coffee filters
Hot glue gun
Scissors
Pinecones (optional)
Plastic snowflakes (optional)
Directions:
Start by creating the base for the wreath by placing a square of cardboard or foam board on your work area. Trace around a dinner plate to create the outside edge of the wreath, and then center a soup bowl to create the ring.
Cut out the base for the wreath, and heat up your hot glue gun. To create the fluffy Winter wreath, fold a coffee filter in half, then in half again, and then glue onto the wreath, angling the open edge toward the outside of the wreath. Secure with a dot of hot glue. Continue by folding the coffee filters and layering them on top of each other around the outside edge.
To fill the inside of the wreath, continue folding the coffee filters, but now place the open edge near the first layer of coffee filters, fold around to the back of the base, and secure with hot glue. Continue working until the entire base is covered.
To finish the wreath, hot glue a couple pinecones or a sparkling plastic snowflake, and then hang from your front door. It's so pretty!