DIY Cup Cozy
Cozy Up With These Easy Hot Cup Sleeves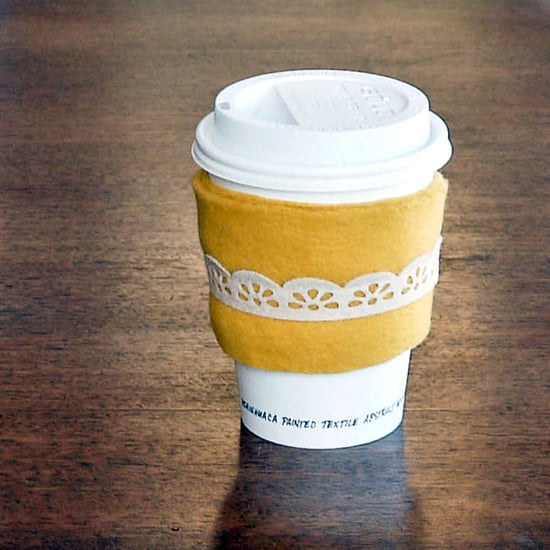 There's nothing like a hot drink on a cold day, which makes these DIY cup cozies a fun way to enjoy your favorite steaming beverage. You only need a few basic materials to make a sleeve that fits all sizes of glasses. Personalize with a few cute buttons or even strips of colorful ribbon. Make one for home and another for the office — and a few extra for gifting.
Read on for the directions.
What You'll Need:
Fleece or felt
Cardboard coffee sleeve
Pen or pencil
Scissors
Hot glue gun
Peel-and-stick Velcro
Buttons or ribbon (optional)
Directions:
Select a section of fleece or felt to work with to create the base for the hot-cup cozy. Place the cardboard sleeve on the felt and use a pen or pencil to trace around the outside edge. Remove the cardboard and cut out the fabric.
To really create an extra layer of protection from hot cups, repeat step one so you have two identical sections.
Now heat up your hot glue gun and seal the two sides together by running a line of glue around the edges. Work slowly to ensure the fabric really seals together. And don't worry about the glue melting while enjoying your next cup of joe. Your hot beverage isn't hot enough to unstick the glue.
For a hot-cup sleeve that fits all drinks, fold over the sleeve and position a length of peel-and-stick Velcro horizontally at the front edge and the back edge, so when wrapped together, the Velcro lines up. Further secure the Velcro strips with a few lines of hot glue.
Now adorn your sleeve with a length of ribbon or a cute button. It's that easy!
To use, simply wrap around your hot to-go cup and secure in place with the help of the Velcro. Make one to keep in your bag, another to use at the office, and a few more for gifting to your hot-beverage-loving friends.