DIY Curled Paper Valentine Card
Curled Paper-Strip Heart Cards For Valentine's Day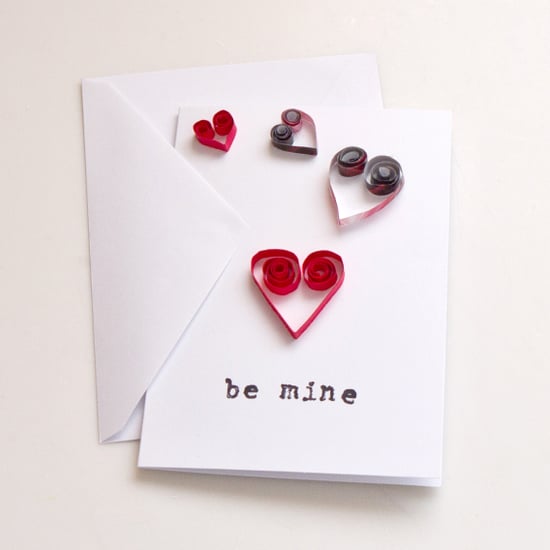 Instead of tossing down hard-earned cash on cheesy Valentine's Day cards, show the ones you love just how much you really care by making your own. And these adorable curled paper-strip decorative love notes are wonderfully easy to make and are a great way to repurpose old magazines or pieces of scrap paper, making this DIY seriously savvy. Curling, or quilling, paper is a sweet way to express your love, and you can personalize these cards with cute sayings and special adorations.
What You'll Need:
Magazine or scrap paper
Craft needle
Blank cards and envelopes
Scissors
Paper cutter
Glue
Paintbrush
Letter stamps
Stamp pad
Directions:
Gather together scraps of paper, or tear magazine pages to create really adorable hearts to adorn the cards. Select reds, pinks, or pastel patterns for use.
Cut skinny strips of paper using the paper cutter or scissors, around one quarter-inch or less in width.
Fold the paper in half, wrap one end around the craft needle, and begin rolling it into itself. Continue rolling toward the fold, leaving around a half-inch of paper close to the fold.
Now roll the other side of the heart, and then slide out the needle, revealing the cute curled paper heart.
Use letter stamps to write a special note on the front of the card or, if you've got fancy handwriting, use a black marker to write something lovely.
Now coat one side of the curled paper heart with glue, and press onto the card.
Continue rolling and gluing hearts to create the finished card. Pop into an envelope, and you've got a really special, and personalized, Valentine's Day card!