DIY Dessert Tray
Savvy Chic: Dollar-Store Tiered Tray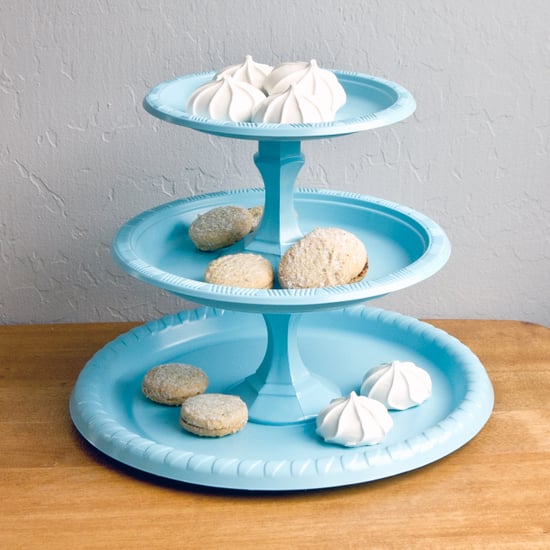 If you're looking for a seriously cute and smart way to display edible goodies at your next gathering, this tiered tray is appetizingly easy and only costs around $5 to construct. All the basic materials needed for this project can be found at your local dollar store, though you'll probably need to pick up your favorite color of spray paint at the home goods or craft store for finishing the tiered tray. So call your girlfriends and invite them over for an afternoon of crafty fun.
Keep reading for the easy directions.
Dollar-Store Tiered Tray, From Sarah Lipoff
What You'll Need:
Small, medium, and large plastic plates
2 glass candlesticks
Super glue
Ruler
Permanent marker
Paper towel
Spray paint
An old bedsheet or newspapers
Directions:
Gather the materials and select three plastic plates: one small, medium, and large.
Start with the medium-sized plate, eating surface-side up. Place the ruler across the center of the plate. Draw a line along each side of the ruler to create two horizontal lines bisecting the plate. Then, turn the plate 90 degrees, place the ruler across the center of the plate so it intersects the first two lines, and draw one line along both sides of the ruler. This will form a square guide on which to place the candlestick.
Place a light layer of super glue around the bottom of one of the candlesticks, and then press the glue-coated edge onto the plate, placing it over the square you drew.
Repeat steps two and three with the largest tray, using a paper towel to remove any excess super glue if needed.
Finally, flip the smallest-sized plate over to the noneating surface, and use the ruler to mark the middle, like the other plates.
Now add a thin layer of glue to the top of the candlestick on the middle-sized plate and press to the base of the smallest plate over the square guidelines. Let set for a few minutes before moving on to the next step.
To finish the tiered tray, coat the top of the candlestick on the largest tray with super glue, and center it atop the other two trays. Allow to set for a few minutes before the next step.
Head outdoors and find a spot to spray paint the finished tray. Protect your lawn or driveway with several layers of newspaper or an old sheet, and lightly coat with spray paint. Once dry, touch up areas that were missed.
Now your finished tiered tray is ready to use! Fill with sweet treats or small bites to display during your next gathering.