DIY Fridge Liners
Kitchen Makeover: Homemade Fridge Coasters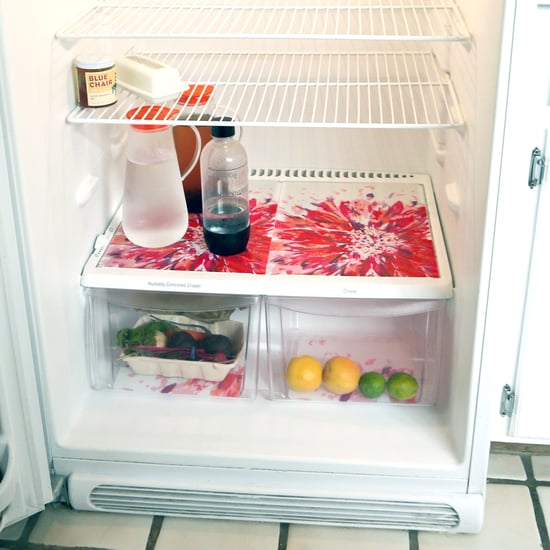 We've seen this smart idea all over Pinterest, so we couldn't wait to try making fridge coasters for ourselves. We love the idea of adding a pop of color to plain ol' fridge shelves and that they help keep things clean, too. But was making our own instead of picking up a premade pack ($25) worth it?
We made some to find out. Here are a few tips for DIY fridge liners:
Measure your fridge shelves, and then shop for plastic or vinyl placemats, which work best. Hunt for the biggest bargain at the dollar store or Target, but take into consideration the pattern and color. If the hue is too dark or the pattern too solid, then light won't be able to pass through them, transforming your fridge into a dark cave.
Cut a template from a sheet of paper to use for cutting your placemats. This ensures you have the right fit before potentially cutting the liner too small. Use washable marker and a ruler to create straight-cut lines on the placemats; these will easily wipe away before you tuck the mats into your fridge.
If you have large shelves that require more than one mat, then use packing tape to seal the seam; otherwise, your fridge items will constantly snag on the edges. Flip the mats over and seal at the back, pressing along the seam to really hold them together.
Pop in the fridge coasters, and trim as needed. To clean, simply wipe the liners with a sponge, or remove and wipe them down in the sink. If your cool coasters come in contact with raw meat, then it's a good idea to toss them and start fresh.
Bottom line: Making your own fridge coasters is fun and easy — and also budget-friendly. Buying placemats and converting them into fridge coasters cost us less than $10, which is a lot cheaper than the $25 premade pack.
The bummer was not having a single length of liner for the main shelf; store-bought coasters are made specifically for lining your fridge, and they're often composed of recycled, eco-friendly materials. But whether you make your own or splurge on a set, it's a fun fridge makeover.