DIY Glitter Candles
Sparkle on With Mason Jar Glitter Candles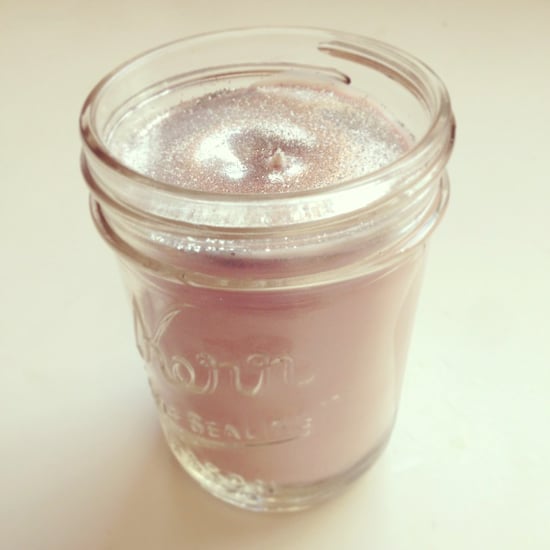 Everyone loves a little bling, which makes this sparkling candle so fun. The DIY makes use of old candle ends and upcycles a glass jar into something that brightens any home. We found this smart idea on Pinterest and had to try making one ourselves. The finished candles make great homemade gifts for just about anyone on your holiday guest list or would look lovely as a shimmering wedding favor.
Read on for the DIY.
What You'll Need:
Small saucepan
Small glass or metal bowl or empty tin can
Ends of old candles
Candlewick
Glass jar
Hot glue gun (optional)
Crayon shavings (optional)
Essential oil (optional)
Towel
Superfine glitter
Wooden dowels (optional)
Tape (optional)
Directions:
Start by filling the saucepan a third full of water and then place it over medium heat. Create a double boiler by placing a metal bowl over the simmering water. Add the wax to the bowl and leave over the water until melted.
Prepare the candle by placing the wick at the center of the glass jar. You can hold it in place with a dot of hot glue. And you can add a bit of color to the candle with the help of some crayon shavings and a touch of scent with a few drops of essential oil.
Place a towel over your work area and then carefully pour the wax in the jar. While the candle is still warm, sprinkle the glitter over the top. Because the glitter is lighter than the wax, it settles over the surface.
If needed, hold the wick in place with the help of two wooden dowels. Place one on either side of the wick and hold them fast with a length of tape. If your wick is the perfect height, like ours was, go ahead and skip this step.
Let the candle harden overnight, remove the dowels, and trim the wick, as needed. Your glittering candle is ready to give as a gift or enjoy in your home!