DIY Glitter Plastic Animals
Sparkly Dollar Store Plastic Animals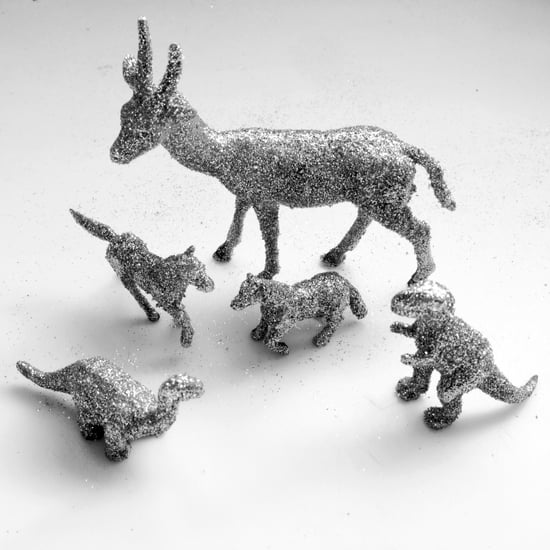 Head to the dollar store and pick up fun packs of plastic animals for decorating around the house this holiday season. Bunch them together on a tray covered in tree trimmings or pop them into cute dioramas — these sparkling adornments are so easy to make! Here's what to do:
Cover your work area with a sheet of paper and arrange your plastic animals. It's a good idea to work in small batches of four to six plastic figurines so the glue doesn't dry too quickly.
Give the animals a good coating of Mod Podge and then sprinkle with superfine glitter. You can use any color you like, but we think silver looks so chic. And don't skimp. You're going to need a lot of glitter to really coat the little animals!
Continue coating the plastic animals in glue and then dredging with the glitter. Once dry, touch up as needed. And you can salvage all that glitter by carefully folding the paper in half, tapping gently to gather the glitter in the fold, and then carefully adding the glitter back to the container.
Give each animal a little tap to release any glitter that's not completely adhered, and they're ready to use! Don't have any Mod Podge? You can also use spray adhesive, but only tackle one animal at a time — the adhesive dries really fast!