DIY Holiday Burlap Bunting
DIY Decoration: Chic Holiday Burlap Bunting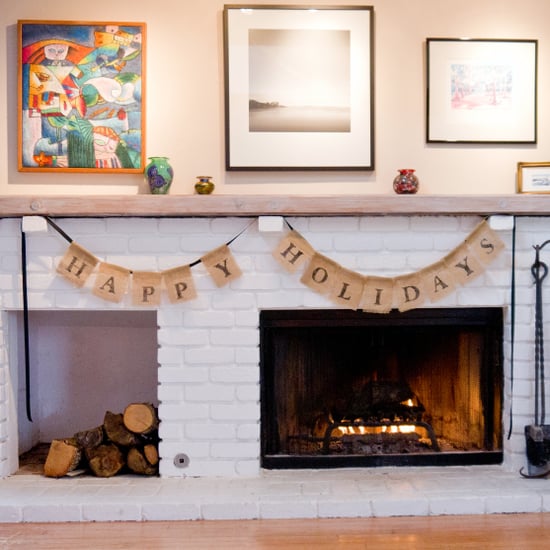 Want to decorate the house this holiday season but aren't into decking the halls with red bows, green boughs, and sparkling lights? Here's a hip and eco-friendly decoration that is seriously easy but looks like you purchased it at a chic shop. Using burlap keeps the price of this holiday bunting around $5, and you can even personalize it to really celebrate the season.
Click here for the easy-to-follow directions.
What You'll Need:
1 yard burlap
Ruler
Scissors
Black acrylic paint
Paper
Computer and printer
Craft knife
Paper bags
Small sponge
Paper towel
Tape
Hot glue gun or fabric glue
Ribbon
Directions:
Create eight- by five-inch rectangles to use for the bunting. To make straight cuts, measure eight inches down from one of the longest edges, and then gently pull a thread from the burlap to use as a cutting guide. After making the long cut, measure the width of the rectangles using the same technique, creating a collection of burlap rectangles.
Use a computer to decide on a font and text for your holiday bunting. You can personalize the bunting by adding your family's name or a specific holiday. Select a font that can be used in bold and enlarge until the letters are big enough to fit comfortably on your burlap rectangles — around 250 point works really well. Print the letters.
Place several paper bags over your work area. Cut squares around the letters, and then cut out the letters using a craft knife, creating a paper stencil to use for painting the bunting. For letters with internal parts, such as "R," reserve the inside cuts to use for forming the letters.
Fold a paper towel in half, and squeeze out a dollop of black acrylic paint. Cut the sponge into a small square for applying the paint to the burlap. Position the paper stencil on the burlap toward the bottom edge of the rectangle, dip the sponge in the paint, dab the inside of the letter stencil, and then lift to reveal the painted letter. If printing a letter that has internal sections, use a small piece of tape for holding the small piece of paper in place.
Continue stamping until all the letters needed for the holiday burlap bunting are complete. Once the paint is dry, pull a few strands from the sides of the burlap rectangles to soften the edges. Fold the top edge of the burlap rectangle down, and secure with a hot glue gun.
Thread the letters with a length of ribbon, and then find the perfect spot to hang your chic holiday burlap bunting.