DIY Holiday Cards
So Creative! DIY Holiday Cards That Will Leave an Impression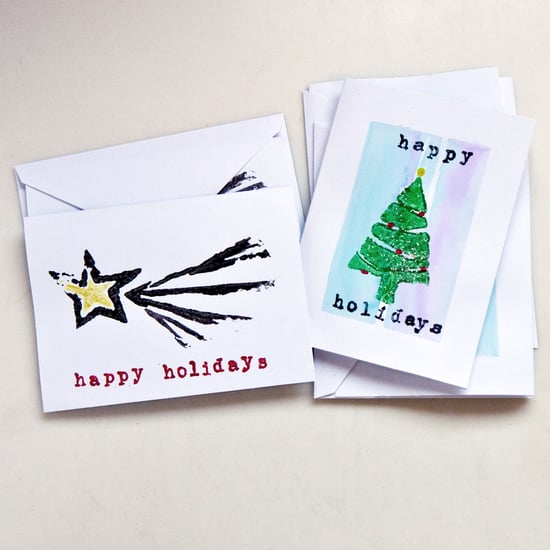 Instead of purchasing mass-produced generic holiday cards to send to friends and family, get crafty with frugal DIY creations that will definitely leave an impression. All that you need are a potato, blank cards, craft paints, and a bit of patience for a collection of cards that cost less than five bucks to make.
Keep reading for the easy directions.
What You'll Need:
Set of blank cards
One potato
Pencil
Pairing knife
Various colors of craft paint
Paintbrush
Painters tape
Paper towel
Glitter
Letter stamps
Black permanent marker
Directions:
Before printing you can create a colorful background by taping around the edge of the card using painters tape. Then make a wash by brushing water over the front of the card and then lightly brushing with paint, using colors like blue or purple. Or leave the cards white for a graphic holiday card.
Slice the potato in half, creating a long and wide base for creating the stamp for your holiday card. Use a scrap piece of paper to sketch ideas for your design, keeping it really simple. Basic shapes, like stars or a triangle for a tree, really work well. Once you're happy with your creation, use the sharp pencil to draw the outline on the cut potato.
Carefully use a paring knife to cut away the potato from the outline, working with the knife moving away from you. Cut the potato smaller to fit the design, which reduces the amount of carving.
Fold a sheet of paper towel in half and then in half again, to use as your palette. Squeeze a few drops of paint onto the paper towel and use it to apply paint to your potato stamp.
Press the potato onto the card and lift it to reveal the finished print. For extra holiday sparkle, sprinkle with glitter. Continue painting and printing cards, allowing the finished creations to dry for at least two hours.
While you're waiting, you can repeat the steps with the other half of the potato to create a selection of holiday cards.
Finish the cards by removing the tape and adding pops of color with craft paint. Use a permanent marker to write a holiday greeting on the front or use letter stamps to write a seasonal message.