DIY Ironing Board
DIY Portable Mini Ironing Board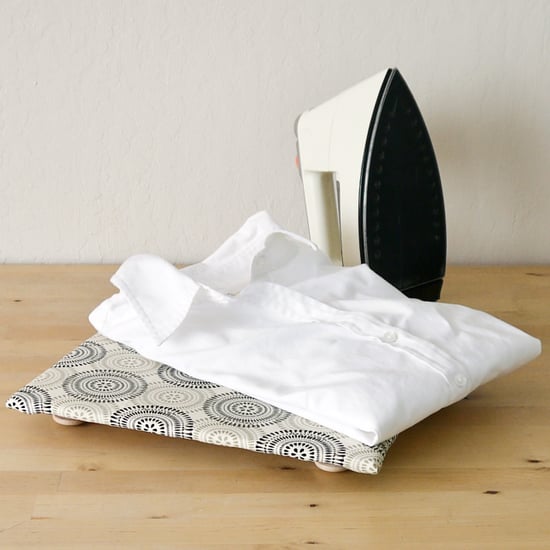 Tired of wrangling with that clunky, full-sized ironing board when you need to quickly press a shirt? Perfect for small spaces or tucking in a suitcase when traveling, this DIY mini ironing board keeps things wrinkle-free without taking up needed closet storage. Repurpose an old shirt or use a fun piece of fabric for creating the little helper. Pick up a square of wood at your local craft store, along with a bag of quilt batting, and you're ready to make this wonderfully easy ironing board that costs under $10 total.
What You'll Need:
Section of plywood
Four cabinet handles
Ruler
Pencil
Quilt batting
Fabric
Scissors
Staple gun
Directions:
Use a ruler to measure one inch and a half from each corner of the wood and mark with a pencil. Go with basic wood cabinet pulls or add a bit of bling with glass or silver handles. Carefully position over the side of your work table and screw the nails through the center of the pencil marks. Or take it outdoors and place on the grass to safely screw the nails through the wood.
Secure the cabinet handles by screwing them into the screw on the bottom of the mini ironing board, which gives it a bit of a lift.
Cut a section of quilt batting about one inch larger than the wood. Now cut fabric covering for the ironing board one inch larger. Layer them on your work area starting with the fabric print side down and then the batting. Place the board over the batting with the legs facing up. Starting at the bottom left corner corner, fold the edge of the fabric over, and over again, then pull taught and staple.
Now fold the edge of the fabric over at the top of the board, directly across from the first staple, and secure with a staple. Continue working around the ironing board, creating a smooth and taught covering. At the corners, fold over the fabric and hold snuggly in place with a staple.
You're all set for ironing! When not in use, store in a drawer or under your sink for quick access when needed. Or pack in your suitcase during business trips to keep things nice and crisp.