DIY Leaf Votives
Brighten Your Space With DIY Fall Leaf Votives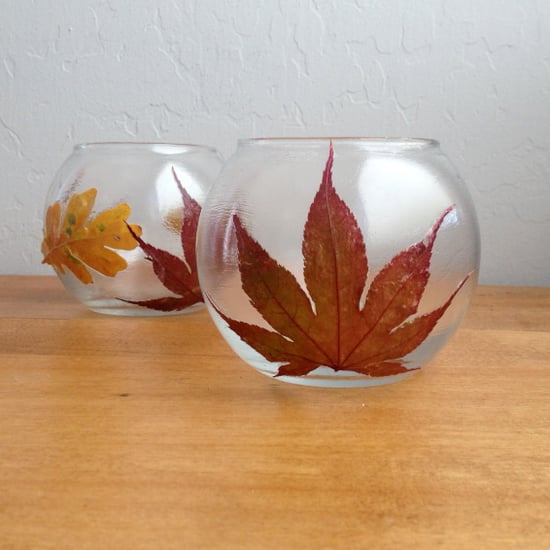 If you love the changing season, this Fall DIY is the perfect way to celebrate. Take a stroll and collect all your favorite colorful leaves to create these easy votives that will brighten any space — and will make special handmade gifts! Pop in a scented candle, and you've set the scene for Autumn indulgence.
Keep reading for the directions.
What You'll Need:
Glass votives
Pressed leaves
Mod Podge
Parchment paper
Paintbrush
Directions:
Gather the leaves that will decorate the Fall votives and press them overnight, or up to a week, before getting started. You can pick up glass votives at the dollar store, which makes this DIY super affordable. Remove any sticky labels from the glass and select the pressed leaves that you will use to decorate the votives.
Place a sheet of parchment paper over your work surface, which protects against any glue drips. Flip the votive so it's upside down. Now coat the side of the votive with Mod Podge, giving it a good coating to help the leaves stick to the glass, and carefully press a dried leaf over the glue. Continue adding leaves or just pick one to highlight.
Coat the rest of the votive with Mod Podge, avoiding the bottom and the top edge, which gives the votives a shimmery look. Add leaves, if desired. It's that simple!
Allow the glue to dry, and you're ready to pop in a candle. Happy Fall!