DIY Paint Sample Mobile
Wedding DIY: Chic Upcycled Paint Chip Mobile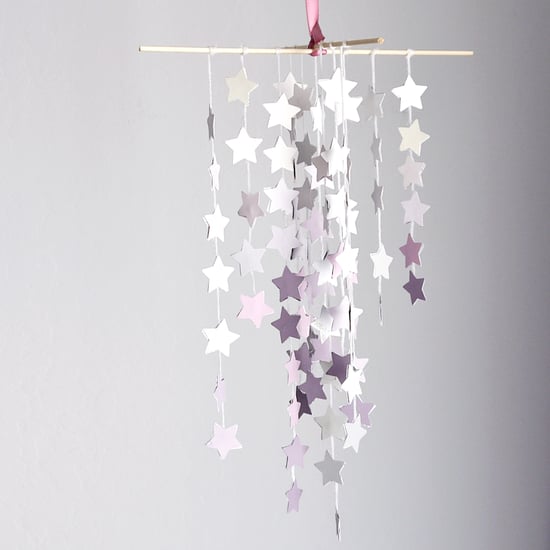 Put that collection of paint chips to good use with this chic upcycled paint chip mobile. Use samples that match your wedding colors for lovely decorations that are perfect for hanging over tables or in empty corners at your venue. All you need is a shape paper punch and a couple of wooden skewers for this budget-friendly DIY. Not getting married? Make with seasonal colors for a stunning display or pop together a friend's favorite colors for a special gift.
Read on for the directions.
What You'll Need:
Paint chips
Shape paper punch
2 10-inch wooden skewers
Hot glue gun
White string
Scissors
Ribbon
Directions:
Use the shape paper punch to cut away the shapes from the paint chips. Continue cutting out shapes until you have a big stack. If the punch doesn't seem to be doing its job, swap out a paint sample for a square of aluminum foil and press, which sharpens the blade.
Now think about arranging the colors from light to dark for a pretty ombre look or create a repeating pattern. Cut a 12-inch length of string and begin and gluing the shapes to the string, color side out, and then cover the exposed side with the matching color. For a unique mobile, vary the amount of shapes on each length of string. Continue glueing together until you have 12 shape-filled strings.
Cut the sharp ends of the skewers and then secure together in an "X" using hot glue. Start tying the lengths to the wood keeping the arrangement balanced so the mobile doesn't wobble or hang to low on one side.
Once you are happy with how things look, trim ends of the strings, and finish with a length of ribbon secured around the center of the mobile. Hang and get ready for lots of oohs and aahs!