DIY Photo Pendants
Cute and Easy DIY Photo Pendant Necklaces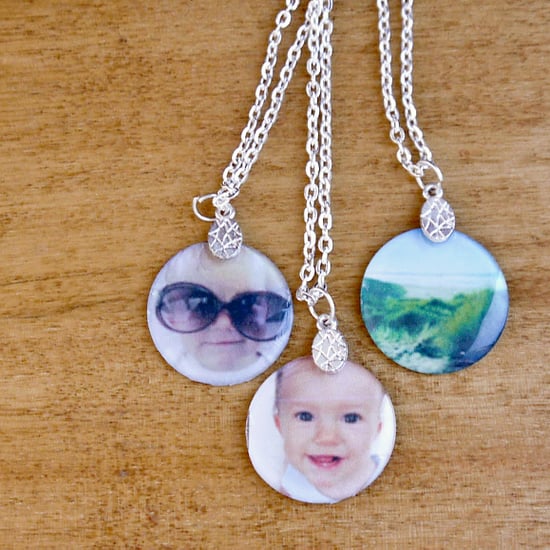 Personalize these easy DIY pendants with Instagram snaps or favorite pictures for really special gifts or adding to your jewelry cache. Just like making your own photo canvas, there's no need to be crafty for this fun project. With the help of printed pictures and a bit of glue, you're on your way to beautiful chains with a surprise pop of color. Call your gal pals and start printing pics, because this DIY gets cheaper when made with friends.
Read on for the directions.
What You'll Need:
Bubble caps
Pictures
Glue-on pendant hangers
Super glue
Scissors
Mod Podge
Jump rings (optional)
Chain, ribbon, or string
Directions
Start by selecting pictures to use for making the pendants. Colorful Instagram pictures work really well and portraits are adorable too. Play around with sizing the images so they're small enough to fit in the rounds.
You can find bubble caps at your local craft store for a few dollars, which really work well with this project because they're sticky on the back. Simply remove one of the rounds and press over a picture, centering it so it showcases the image. Press the paper to really adhere the picture then cut away the rest of the picture.
Place the rounds on a sheet of paper and carefully stick a glue-on pendant hanger to the top of each round with the help of a drop of super glue. Let set for at least 10 minutes.
Now flip the pendants and lightly coat the backside of the rounds with Mod Podge, which seals the back. Let dry for 30 minutes.
Your photo pendants are ready to wear! Simply thread with a length of string or attach to a chain with the help of a jump ring. Avoid getting the finished necklaces wet as the photo may bleed.