DIY Pot Scrubber
Make Your Own: Repurposed Produce Mesh Bag Pot Scrubbers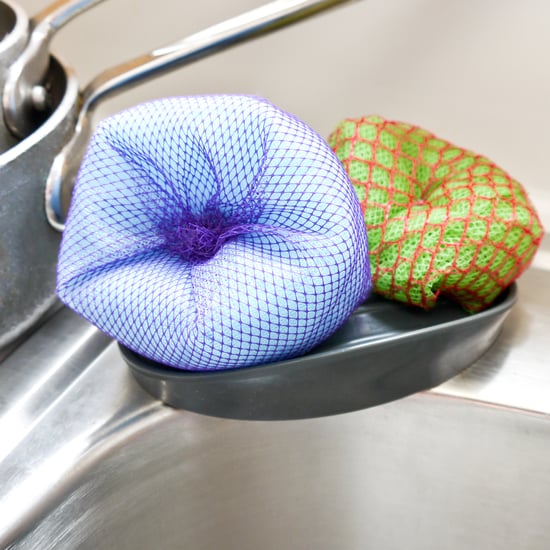 Make cleaning pretty with this easy DIY that repurposes plastic mesh produce bags into something seriously cute and functional. Instead of buying pot scrubbers, make your own for only a few dollars. And this is a fun girl-party activity, perfect for gathering everyone's empty mesh bags and filling with colorful tulle. The finished pot scrubbers are adorable and do a great job softly cleaning baked-on pots and pans.
Read on for the directions.
What You'll Need
Plastic mesh produce bag
1/2 yard tulle
Needle
Craft thread
Scissors
Directions:
Gather the materials for making the pot scrubber. You can use any type of mesh produce bag for creating these cleaners, from large ones for tangerines to small bags holding garlic or pearl onions. Pick up tulle at your local fabric store, or repurpose fabric from old dresses. Using a contrasting color or bright shade of tulle makes these pot scrubbers really fun.
Place the mesh bag flat in front of you and cut a square from the mesh, cutting along a fold, to create a pocket for your pot scrubber. With smaller bags, you can simply trim the top from the bag. A section around six by six inches creates a nice-size pot scrubber.
Now stuff the mesh with the tulle, and then gather together the open end of the mesh bag. Smaller pot scrubbers may not need as much tulle, while bigger ones might need a bit more. Thread the needle, weave through the edges of the mesh at the open end, and pull tightly to seal the pot scrubber. Secure with several knots.
To finish the cleaning domino, thread the needle and sew through the center of the pot scrubber, leaving at least three inches of thread on the other side. Loop the thread and then sew through the middle again, and then again. Knot the thread, and trim any loose ends.
You're ready to get scrubbing! And when this pot cleaner gets a bit dingy, simply toss it in the dishwasher for a quick refresh.