DIY Produce Bags
Upcycled Eco-Friendly Produce Bags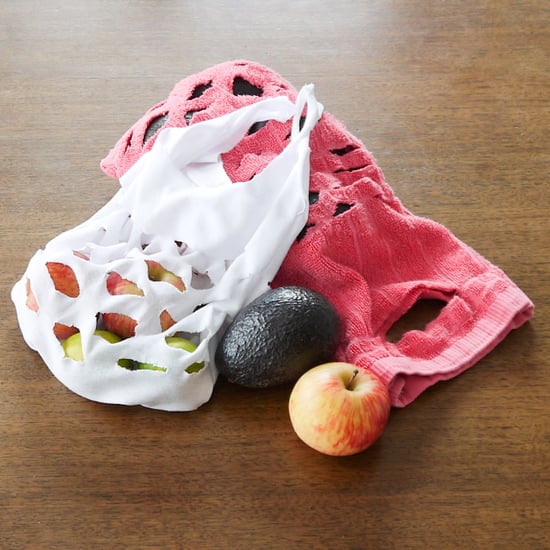 If you've got a stack of old tees or dish towels, then use them for making cute and easy DIY produce bags that replace plastic ones from the grocery store. Along with being eco-friendly, these simple bags can be tossed in the wash and used over and over again. Use t-shirt bags for delicate goodies and the dish-towel bags for heavier items. Even if you don't have a sewing machine, these fun carriers come together in no time.
Read on for the directions.
What You'll Need:
Dish towel or t-shirt
Scissors
Ruler
Pencil
Needle and thread or sewing machine
Directions:
We took inspiration from this smart idea and put a spin on things by using a dish towel. Fold the towel in half, and cut in the middle to create two rectangles for making produce bags.
If using a t-shirt, fold in half vertically, and use a pencil to sketch out the shape of the bag — almost like the shape of a bib. Cut along the line, then cut around the ribbing of the neck to create the handles for the produce bag.
Get out your handy sewing machine, flip the dish towel inside out, and stitch the sides to create the bag. For the t-shirt bag, begin stitching four inches from top of one side, sewing around the curve, and ending four inches from the top of the opposite side. Don't have a sewing machine? Simply stitch together with a needle and thread, which works just as well but takes a bit longer.
To create the slits for the produce bag, place a ruler six inches from the top of the bag, and place it horizontally over the fabric. Use a pencil to mark every other inch, and then position the ruler a half-inch below the first lines. Now mark every other inch opposite from the first line. Continue marking through the bottom of the bag. Use sharp scissors to snip the openings.
To create the handle for the hand-towel produce bag, cut a three- to four-inch slit two inches from the top edge. Your finished produce bags are ready to go shopping!