DIY Tee Shirt Infinity Headband
Transform a T-Shirt Into an Easy DIY Headband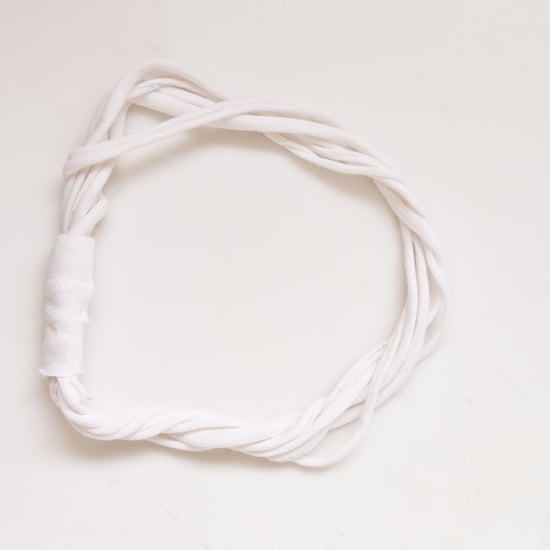 Still need a bit of gift-giving inspiration for someone special on your holiday list? Here's a quick and easy tutorial for repurposing an old t-shirt into a trendy infinity headband. No sewing necessary; all you need is a hot glue gun to make this transformation. And because you're upcycling an old t-shirt for this savvy DIY, you'll still have money in your pocket for last-minute presents.
Keep reading for the directions!
What You'll Need:
Old cotton t-shirt
Scissors
Hot glue gun
Directions:
Select a cotton t-shirt to use and gather the materials you'll need for the project. You can use one color tee or mix and match colors for unique headbands.
Smooth the t-shirt flat on your work table and cut away the bottom seam of the tee in one long length, reserving for later.
Now cut long strips from the tee, working horizontally from the right seam of the shirt to the left. You will need three to five strips, and the strips can vary in width from skinny (about one fourth of an inch thick) to thick, around two inches thick, for variety in your infinity headband. Leave the seams on the end of each strip.
Hold the strips at each side seam and pull, which curls the cotton into itself.
Twist or braid a few strips together, and then loop the lengths together into a headband form. Cut away about one inch from each end of the seams. For a more personalized fit, slip the lengths around your head and measure before cutting the ends.
Secure the ends with hot glue.
Remember when you cut away the bottom seam of the tee? Cut a section about two inches wide by three inches long for finishing the infinity headband. Place under the ends and secure with a dot of hot glue. Then coat the section with hot glue and gently roll around the ends.
It's that simple! Secure with more hot glue if needed.