DIY Tin Can Wind Chime
Upcycle It: Ombré Tin Can Wind Chime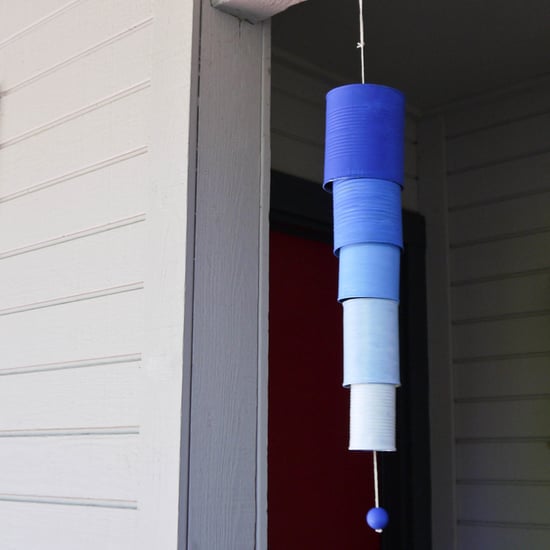 The birds are chirping, the wind is rustling the leaves, and there's a touch of crispness in the air. Add to the sounds of the season with an upcycled can wind chime that's oh-so-chic. Pick your favorite color of acrylic paint and blend to create an ombré line of tinkling cans that look great outside a window, adorning a balcony, or welcoming visitors at your front door. Not only is this DIY is seriously simple, but it also basically costs nothing to make.
Read on for the directions.
What You'll Need:
Different sized tin cans
Newspaper
Small paper cups or containers
One color acrylic paint
White acrylic paint
Foam brush
Hammer
Nail
Cotton or hemp twine
Scissors
Bead, bell, or stone
Directions:
Clean and dry the cans, and cover your work area with newspaper. Acrylic paint can stain your clothing and countertops, so putting down a layer keeps things protected. Use four to six varying-sized cans to creat a really pretty wind chime.
Flip the largest can upside down and use a foam brush to paint the outside of the can with a solid coat of the color selected. This will be the top of the ombre wind chime.
To create the gradient of color, add a large dollop of the paint to a small container and then a small squirt of white, basically three parts the selected color and one part white. Mix together, flip over the next largest can, and paint the outside.
For the next can, mix together equal parts of the selected color and white, flip over the can, and paint. Continue blending white with the main color until all cans have been painted. Let cans dry, and touch up as needed.
To assemble the wind chime, nail a hole through the top center of each can. Cut a 4- to 5-foot length of twine, which ensures you'll have enough, and feed through the top of the smallest can, leaving around 6 inches at the end of the wind chime. Mark where the top of the can hits on the string, pull it out from the can, double knot, and then feed back through the whole.
Now arrange the wind chime so the bottom of the next can overlaps and then mark on the string. Remove the can, double knot, and then restring the can.
Continue working until the wind chime is finished. Tie a bead, bell, or stone to the bottom, and create a loop at the top for hanging. Find the perfect spot, and your wind chime is ready to hang!