DIY Wedding Bottle Cap Planter Favors
Wedding DIY: Bottle Cap Planter Favors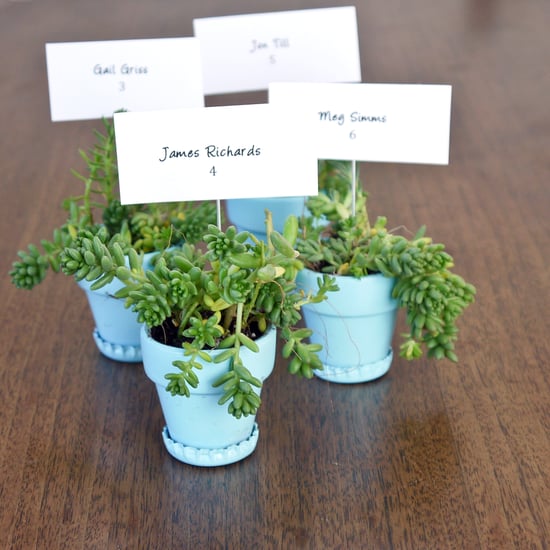 Start saving your bottle caps for making these sweet wedding favors, which also double as seat assignments! Along with being wonderfully budget-friendly, these adorable favors are perfect for decorating small spaces after your big day. Made from mini terra cotta pots and sedums, these favors come together in no time with the help of your bridal party.
What You'll Need:
Tray of sedums
1-inch terra cotta pots
Bottle caps
Hot glue gun
Spray paint (optional)
Knife
Metal floral wire
Scissors
Card stock
Directions:
You can find trays of sedums at your local garden center and small terra cotta pots at any craft store, or shop for them in bulk online. Sedum is drought-tolerant and hearty, which makes it perfect, and really cute, for this wedding DIY.
Attach the bottle caps to the bottom of the mini pots by placing a round of hot glue at the base of the pot and then pressing to a bottle cap. This allows the sedum to drain without creating a watery mess.
Leave the pots as is or coat with spray paint for a really fun look. Use a color from your table settings to create unity, or pick your favorite color for a personalized wedding favor.
Once dry, create an assembly line of pots for filling with the sedum. Use a kitchen knife to gently cut away one inch of the plants from the tray, and then tuck into a terra cotta pot.
Now cut the floral wire into three- to four-inch lengths. Print seat assignments on card stock and then cut out. Secure the assignments to the wire with the help of a bit of hot glue.
Personalize the favors further with a length of ribbon wrapped around the middle of the pot, or leave as is for a seriously cute and memorable wedding seat assignment favor.