Death by PowerPoint
Workplace Epidemic: Death by PowerPoint
Even if you've never put a name to it, you've almost certainly experienced death by PowerPoint: sitting in a stuffy conference room for what feels like (and may be!) hours, watching a presenter click through slide after slide of bulleted points. Plenty of productivity and tech experts have argued that the program hurts presentations more than it helps, stifling creativity and encouraging laziness.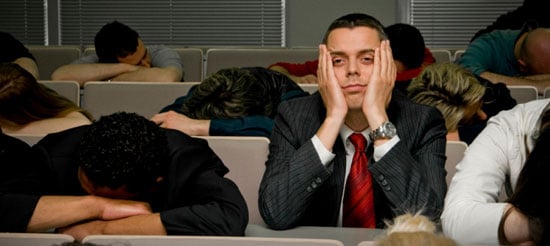 This week's New York Times discusses the US military as the latest PowerPoint casualty. The article features a hilarious mess of a slide that was intended to portray US military strategy in Afghanistan, but instead is being circulated around the web as an example of PowerPoint gone horribly, horribly wrong. For more about death by PowerPoint, keep reading.
Personally, I don't think the slide program is all bad; if it's used correctly, it can make it easier and more interesting for the audience to follow along, and can help keep its presenter on point. But I've also experienced PowerPoint-addicted workplaces where it's used as a crutch; I once had a boss who wouldn't listen to any information he was given unless it was in PowerPoint format. He'd dismiss my ideas over the phone, but if I sent him a handful of slides containing the same information, I was a genius.
What do you think? Do you think PowerPoint is killing creativity in the workplace, or is it a useful tool that, like anything else, is sometimes overused?