Discrimination Against Overweight People in the Workplace
Weigh In on Workplace Weight-Incentive Programs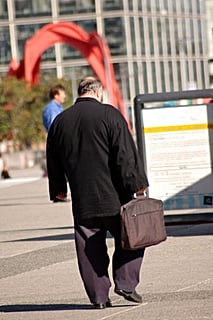 My boyfriend came home yesterday with the news that his firm had announced a weight-loss incentive program. Though I read about company efforts to keep healthcare costs down daily, I was stunned. My guy's office is pretty small, and from what I've seen of his co-workers, no one's overweight. In fact, they're a pretty young company altogether, and from where I'm standing, probably not the most likely group of candidates to need this kind of "lose six-percent of your body weight" initiative.
What's more surprising is that, as it turns out, weight may not just be a healthcare issue. For the past couple of years, employers concerned with growing healthcare costs have fueled weight-loss initiatives, like the one at Whole Foods, for instance. But, there's more than economics at stake. As scientists begin to study the link between weight and work, they're finding that obesity affects job applicants too — it can keep them from getting hired, promoted, and making as much as their slimmer co-workers. "Our research shows that weight discrimination has increased by 66 percent over the past decade," says Rebecca Puhl, the Director of Weight Stigma Initiatives at The Obesity Society. This might make sense for jobs where physical fitness is a requirement, but across numerous career fields there is noticeable "job absenteeism among the obese."
Find out how weight-incentive programs are affecting the office and the obese when you read more.
So, what's the problem with weight-incentive programs at work? Nothing really. They help employees get healthy and promote and reward a balanced, fit lifestyle at the office, especially since evidence shows that some of these programs are really working. But, instituting programs like this at the office can make it harder for overweight hires to break in. Is there a place for someone who's bigger at a firm where everyone's already fit? Is this the next frontier in weight-loss prevention and treatment, or is this helping to perpetuate discrimination against the obese in the workplace?