Dollar Store Holiday Centerpiece
Dollar-Store DIY: Winter Wonderland Centerpiece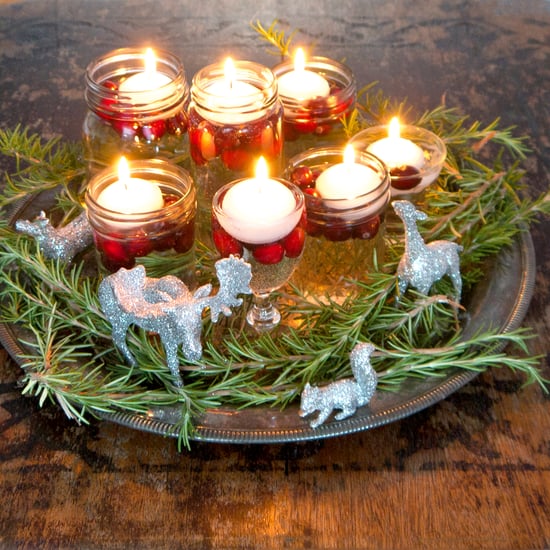 Transform your holiday table into a sparkling Winter wonderland with the help of fragrant rosemary, colorful cranberries, and glitter-dusted woodland creatures you can find at the dollar store. And this stunning centerpiece is easier to pull off than you think. Repurpose glass jars for a fun and eco-friendly holiday decoration. Here's how to pull it off:
Start by following these directions for making the glittering plastic animals. Let them dry for at least two hours before placing in the arrangement.
Pick up a large, round silver-tone tray from the dollar store to use as the base for the centerpiece. Position several clear glass jars and glasses around the platter to create a balanced arrangement. You can even mix things up with glass votives from the dollar store so the arrangement has different container shapes and sizes.
Place a handful of fresh cranberries in each jar and then fill with water. Scatter sprigs of fresh rosemary around the jars and then position the sparkling plastic animals around the platter.
Top glass containers with dollar-store floating candles and light to finish the arrangement. Happy holidays!