Dollar-Store Wedding Favor Bags
Quick and Easy DIY Dollar-Store Wedding Favor Bags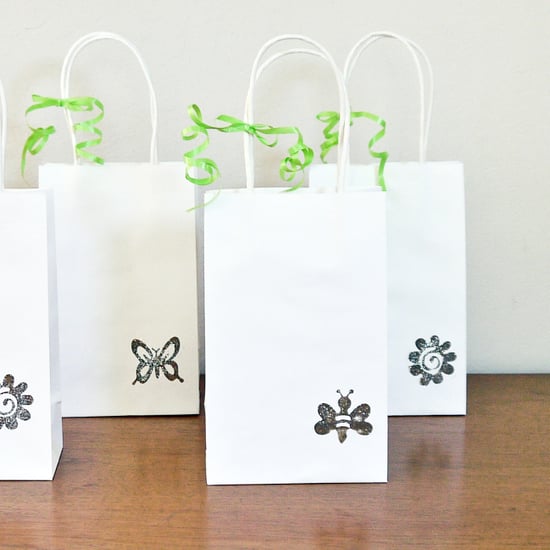 After all your hard work planning the wedding, take it easy by making simple and sweet favor bags that cost less than a dollar to make. You can find just about everything you need at your local dollar store, making this wedding DIY perfect for any budget. A cute stamp personalizes the bags, and enlisting your bridal party in helping with this fun project gets these favor bags finished in no time.
Keep reading for the directions.
What You'll Need:
Paper bag
Rubber or foam stamp
Stamp pad
Scissors
Curling ribbon
Super-fine glitter (optional)
Directions:
Gather the materials for making the favor bags. You can find white bags with handles at your local dollar store. We found five bags for $1 along with a cute set of foam stamps and bright green curling ribbon.
Create an assembly line for making the favor bags, which is where enlisting your bridal party really helps out. Press your selected stamp on the stamp pad and then on the bag. Pick a stamp that fits with your wedding theme or has a personal message. These whimsical bug- and sun-themed stamps are perfect for Spring weddings. Highlight your wedding colors with the color selection for the stamp pad, or keep it neutral with a pop of black. You can find a variety of colored stamp pads at your local craft store.
For a bit of extra sparkle, sprinkle the fresh stamps with super-fine glitter.
Next fill the favor bags with goodies, which could be anything from freshly baked cookies to handmade miniature terrariums. Finish the bag by adorning with curling ribbon. Using one side of an open scissors, curl the ribbon by placing one length on top of the scissor blade, pressing lightly over the ribbon with your thumb, and then pulling the scissors down the length of the ribbon, which creates loose curls.
Congratulations! Your DIY favor bags are ready for a wedding.