Easy Button Bracelet DIY
Easy DIY: Repurposed Button Bracelet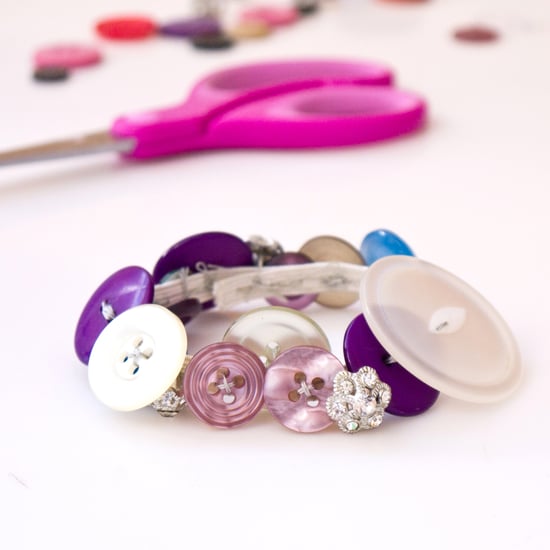 Savvy ladies have a stash of buttons, but when that collection starts to take over, you should repurpose them into adorable baubles that make unique gifts for all the girls in your life. This chic DIY would be a fun project to do with daughters and nieces over the holidays, and all you need for each bracelet (other than buttons) are a needle and thread and a length of elastic. Mix and match buttons, or stick with one color palette to create a bracelet that costs around $3 to make. Or make several button bracelets just for yourself and stack them for a really cool look.
Keep reading for the easy directions.
What You'll Need:
Buttons
6- to 8-inch length of 1/4-inch elastic
Thread
Needle
Scissors
Directions:
After digging around and collecting all your buttons, wrap the length of elastic around your wrist and cut to fit, allowing for about one half-inch of overlap.
Cut a length of thread and stitch the elastic together, creating a sturdy band.
Now you can start sewing your buttons onto the elastic, working with a long length of thread or attaching each button individually. For extra durability, double up the thread and secure with double knots.
Once finished attaching the buttons, cut away any ends of thread, and your bracelet is ready to wear!