Eating In to Save Money
Savvy Weekend Tip: Make Eating In a Fun Activity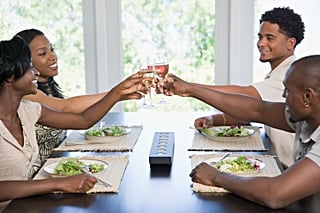 My savvy tip for you this weekend is very simple — eat in instead of splurging cash on that hot new restaurant that everyone's raving about. If you don't already do this, try your best to eat in at least one weekend out of a month.
It can get lonesome eating at home by yourself when the gang is getting together at the restaurant, so why not invite them over to join you and your thrifty meal.
Fridge Party: You can also make a meal from the scraps in your fridge. Now don't turn your nose up at this — scraps don't have to be soggy leftovers! Take a good look at your fridge and pantry when you're cleaning up your kitchen clutter, I'm sure there are lots of things you can use to put together a great meal.
Potluck: Tell your friends to come over and bring a dish for a potluck feast. It's a great chance to enjoy everyone's cooking skills and a savvy way to save money as well.
Picnic: Tired of eating in the same setting? Take your homemade meal outdoors at a nearby park for a refreshing change! There's nothing like the great outdoors and a good meal to brighten up your mood.