Essential Oil on Tissue Box For Stuffy Nose
Fix Your Stuffy Nose With This Amazing Trick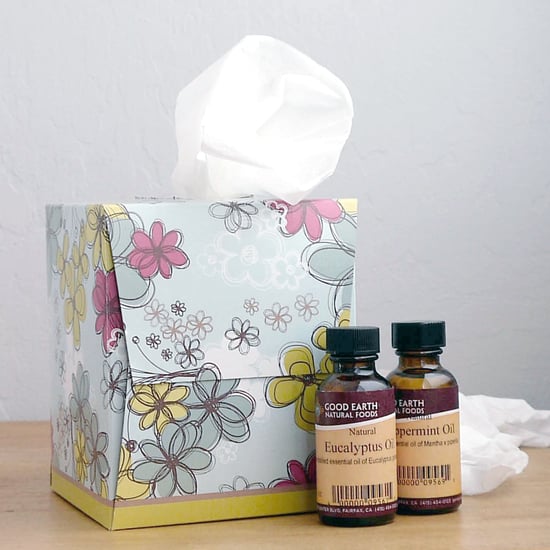 The next time your nose is feeling a little stuffy, make it better with the help of essential oil-infused tissues. This quick fix is so easy and helps you declog in no time. Here's how to clear your nose in a pinch:
Carefully open one side of the tissue box, and drop three to five drops of eucalyptus essential oil on the inside sides of the cardboard. You can also add a few drops of peppermint or rosemary essential oil, which work well together with the eucalyptus to help clear stuffy noses and clogged sinuses.
Use a hot glue gun to close the side of the tissue box. Repeat on the other side, and you've got instant stuffy-headed relief! Simply catching a whiff of these scented tissues before blowing your nose makes things better.
Eucalyptus essential oil does a bang-up job of breaking up mucus and opening sinuses while killing airborne staphylococcus bacteria (the stuff that causes colds). Peppermint helps reduce coughing and congestion. Placing the essential oils on the sides of the tissue box keeps the oils from coming in direct contact with the tissues, which may cause irritation.