Extreme Ways to Save Money
6 Extreme Ways to Scrimp and Save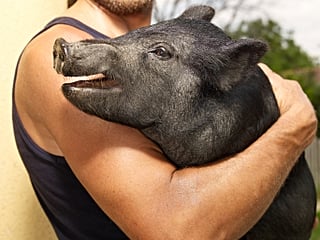 It's one thing to do little acts to save such as bringing lunch to work every day or skipping the Starbucks latte, but enacting a lifestyle change to save dollars takes a lot of dedication and may seem more trouble than it's worth. CNN listed a number of real-life penny-pinching examples from super savers. Here are some of the more unique ones:
Raising pigs for food. Geoff Overland currently has 13 pigs. His family started raising pigs to save money on pork. He believes he's producing meat for about $1.50 a pound compared to the store prices of $3.50 to $6.
Live at the office. An anonymous reader is saving money on rent and commuting by sleeping in his car and office. He takes a shower in his office gym and has an office room to himself, which he furnishes with a cot and a mini fridge.
Becoming "quasi-Amish." Beaten down by a bankruptcy and foreclosure, Mike Hammack and his wife moved to the "middle of nowhere" and live in a mobile home. He farms for his own food and rides a horse to town to save money on gas. Mike makes money by selling chickens, eggs, goats, and cows. He is saving $40,000 a year.
Make kids pay for meals. In order to save money on vacations, John Synder and his wife have their kids pay for half of the cost of dinner. The child who is paying for the night gets to pick the restaurant. He says this saves him about $50 a night. On the plus side, this cost-cutting method is teaching their kids good financial behavior, John says.
Use vegetable oil for fuel. To battle high gas prices, James Bauernschmidt started making his own biodiesel from vegetable oil and he gets the oil free from restaurants that want to get rid of it. This is saving him about $600 to $900 a year.
Skip dinners. Maya Speights uses this tactic to save money and lose weight. She says she is simply "reversing how people eat" by having a normal breakfast and a really large lunch instead of an average-sized lunch and a big dinner. Her office pays for her lunches so she's saving money on her afternoon meals and basically only paying for one meal a day. She used to spend $100 every week and a half, but is now only spending $30 every two weeks.
These are all pretty extreme ways to save extra cash — can you relate to any of them?