Finding Freebies
7 Secret Tips to Getting Freebies From an Expert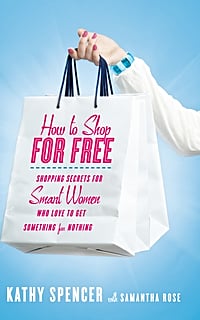 I'm sure all of you agree that there's nothing as gratifying as getting a freebie. It's hard enough to scour the web for coupon codes, which a lot of the times don't work or have expired, so the best thing to do is to call in an expert. Kathy Spencer, author of the How to Shop For Free, spills the dirt on how to get some really awesome freebies. She calls them her "Lucky 7 Tips," because you'll feel lucky after you get such good stuff for free! Be sure to also check out her website at HowtoShopForFree.net.
Have a free girls' night out. Call up Bath and Body Works and ask to reserve one. They'll close the store down for you and your friends, and give you free foot soaks, mini facials, make up applications, and more.
Get your make up done for free at Sephora. Sephora offers complimentary 15-minute make up applications during which they teach you how to do it yourself—things like smoky eyes and luscious lips. You'll walk out feeling beautiful, and you'll get free samples.
Free monthly gifts. Register for an Aerie store card and get a free gift like lotions, gift bags, or undies once a month.
Shop for free at Kohl's. Register for email alerts at Kohl's.com and they'll email you a 5/5 coupon. It's like a $5.00 bill to play with. Grab a free beach towel or tank top.
For more amazing freebies, read on.
Are you paying for makeup? If so, stop. Makeup always works out free at CVS and Rite Aid either with a "buy one, get one free" sale combined with a manufacturer "buy one, get one free coupon" or with a sale that says free after ECBs (Extra Care Bucks).
Want to eat out on the cheap? Go to Restaurants.com and grab up a $25.00 gift certificate for about $2.00 when you add in a coupon code. Coupon codes are updated regularly on www.howtoshopforfree.net.
Looking for free sexy undies? Sign up for deals at Victoria's Secret and get coupons in the mail for free panties. Want lots of undies quick? Go on eBay and start bidding on free Victoria's Secret undies coupons and grab them for 99 cents.