Gender Gap at Work
Where the Gender Gap Grows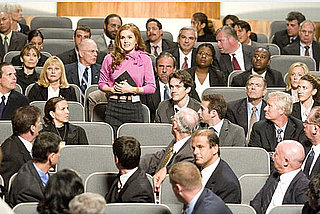 Author BJ Gallagher, who has worked for both male and female bosses and been a boss herself, has written a book of tips entitled, How to Tell a Male Boss From a Female Boss. Some of these tips may read like some kind of bad joke. For instance, "a male boss is aggressive; a female boss is pushy," "he loses his temper occasionally; she can't control her emotions" or "he thinks before he acts; she can't make up her mind." Unfortunately, these are actual perceptions of women in the workplace, and according to Gallagher, "the exact same behavior is judged differently, depending on whether it's a male or a female doing the behavior." Especially true if you're a woman in the middle, working your way up at the company.
The truth is that on average women make roughly 21 percent less than men. And the problem is that for mid-level women working your way up things can get very tricky, very quickly. For members of either gender in a leading or superior role, emotions are typically accepted by employees. However, if you're a woman at the mid-level and you're crying or upset, you're bound to be judged more harshly by your peers, and consequently, your bosses: "If a woman acts out, underlings will gossip about her, and eventually their whispers will be overheard by someone in top management. If a man in the middle behaves in the same way, sometimes underlings will strive to ally with him. They may perceive that he is powerful or protected." That's how it all breaks down, according to Vicky Oliver, author of Bad Bosses, Crazy Coworkers and Other Office Idiots. In short, it's really not the behavior that's creating the problem, it's your co-workers' reactions to it. So, just how should you navigate emotions in the office? Find out when you read more.
The most important thing you can do is to control your own emotions, and your reaction to anyone else's office outbursts. If you're on the receiving end of any "unfavorable" behavior, be strong, but don't be too tolerant or forgiving if the action is offensive or out of line. According to Irina Firstein, a clinical social worker, women are more forgiving of a man's unacceptable office behavior. But you don't have to be. You can be strong and handle the interaction with poise, but you don't have to be OK with it. Once the air clears, it's probably better to acknowledge the outburst with a direct email or conversation, or even a conversation with HR if it made you uncomfortable. You can stand up for yourself in a way that's totally appropriate and puts you back in control. On the other hand, if you're in a situation where you're becoming emotional, pull back. Remember where you are and who you're dealing with. Crying over something at work is going to make you look weak and vulnerable, so do all you can to regain composure, and above all, remain in control and, always, professional.