Gift Card Snow Globes
Holiday DIY Gifts: Gift Card Glitter Globes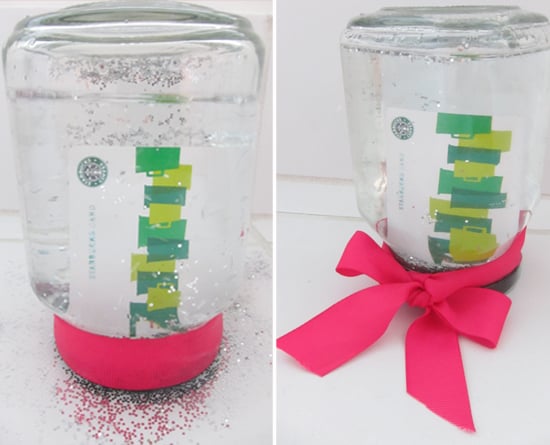 It's hard to give someone a gift card sometimes because it can feel a little impersonal. Here's an idea: encase the gift card in pretty glitter globe for a clever, thoughtful gift. This DIY project is really simple to make and requires minimal effort. Make sure you tell the recipient to take out the gift card in a few days because although the card will still be usable, it's better to play it safe and remove it before something happens.
Here are the materials you need:
Jar: you can use a jam, olive, or salsa jar.
Gift card
Glitter
Ribbon
Hot glue gun
Water
For the instructions, read after the jump.
First, empty the jar and wash it out along with the lid. Remove the label by soaking it with hot water and scrubbing it off. I added oil while I was scrubbing bits of the label off with a brush, and it definitely helped.

Use the hot glue gun to draw a thick line across the inside of the lid.
Take your gift card and immediately push the card down on the line. Let it dry for about 30 minutes.
Shake the glitter into the jar and add water.
Take the lid with the gift card and screw it back on.
Tie a ribbon around the bottom and shake your glitter globe!
If you like, you can also add little ornaments but make sure you pick ones with air in them so they will float around instead of sinking to the bottom.