Groupon Gives Discount on School Tuition
College Sells Groupon For Cheaper Tuition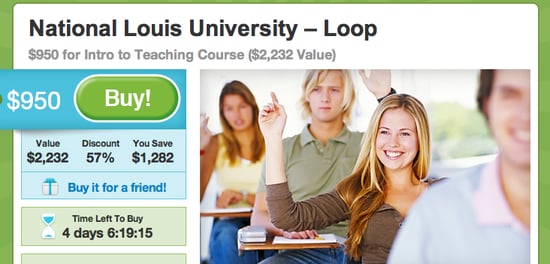 Students at the National Louis University can give their wallets a little break. The Chicago-based school is offering a Groupon for an introductory teaching course for graduate students, and buyers can save up to 57 percent off the tuition of one course. There are only four days left till the deal closes, and up to 15 coupons available — two of which have already been bought. The course normally totals up to $2,232, but people who purchase the daily deal can buy it for just $950.
If you're interested in the details, the class starts this Fall, and students will meet once a week on Monday nights for three hours. There are only 25 spots available for that class, and students will receive three credits that they can use toward the 36 credits needed to graduate from the program.
Now, if only other graduate schools started selling their courses on Groupon . . .