Guide to Creating a Home Office
Savvy Resolution: Create a Home Work Space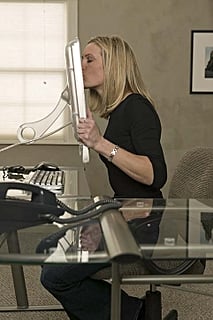 The universal problem with New Year's resolutions? Follow through. After pledging to make real changes in our everyday lives, resolving to welcome the year with only the best versions of ourselves, somehow, not even a full month into the new year, I see it all slip away. So, for this coming year, in order to see these resolutions all the way through, create a work space at home that will motivate and equip you to do the work you're setting out to accomplish in 2011.
Even with the best intentions to weed through your finances, balance your checkbook, and manage your 401(k) during your downtime, you might waste all your free time if your space for financial planning is on the couch, while catching up on your Netflix queue. Instead, if you're really setting out to do work, you need a real work space to get things done. Set up a part of your apartment or house that feels like a workplace. Designate a small space for a desk and the materials you'll need to make good on all of your resolutions, including a filing system and a detailed calendar.
For more tips on creating your home office,
.
Having a filing system will make tracking purchases, keeping receipts, and locating bills a cinch. Take the guesswork out of your budget, and refer to these real records when you're going over expenses. Additionally, keep a working calendar. I recommend using a larger-sized desk calendar, even if you already have an Outlook calendar synched with your cell or computer. Writing out all of your commitments and deadlines, both personal and business, will help give you the big picture of what's happening, and what needs to be done month to month. Sticking to the calendar, filling it out religiously, and using it as your go-to reference will help keep you on top of it all, and make juggling all of your responsibilities more manageable.
By having and using the home workspace, you are creating a tangible way of seeing your financial resolutions through. Giving yourself this space is gifting yourself the tools to get more done, and while it may feel like a smaller step on the scale of your to-dos, it could just be the first step in making major changes in your management and planning to get the bigger jobs done.