Handling Money as Newlyweds
4 Biggest Money Mistakes Newlyweds Make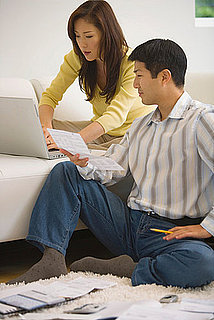 Getting married is a huge commitment, and will affect all areas of your life, particularly your finances. It's no question that money is a sensitive issue and that many problems couples face are cash-related. The Wall Street Journal recently highlighted some of the finance blunders newlywed couples tend to make. To avoid making these mistakes, make sure you are aware of them:
Not being honest about money. Financial planner Robert Walsh tells the WSJ that it's best to have an open dialogue about money before the wedding. Couples can get started on the conversation by using tools such as Mint to share critical money information such as salary, expenditures, and debts. When the newlyweds have a full picture of each other's finances, serious talks about financial goals and budgeting can begin.
Tackling debt alone. Many couples focus on their individual debts and don't tackle them together, which is a big blunder, says Walsh. Try to tackle the loan with the higher interest rate together, before moving on to the lower interest debts.
Witholding insufficient amount of tax. You might want to consider consulting an accountant for a tax projection of your finances even if you're filing separately or jointly. This is so you won't have any unpleasant surprises such as being subjected to penalties, which may trigger arguments.
Being ill prepared for worst-case situations. Don't let the honeymoon phase take over the realities. Prepare for the worst just so you won't have to deal with sorting out messy finances when you're grieving. Make sure that your partner knows the locations of important documents and keep them in the know about important decisions such as how much they need for retirement.
If you're still hesitating about having open conversations with your spouse about money, take heed from Carol Ross Joynt's story. Former Larry King Live producer Joynt cited trust as one of the reasons why money was never discussed. After Joynt's husband passed away from pneumonia, she was saddled with a $3 million bill from the IRS.
Are there any money mistakes you've made as a newlywed?