Homemade Body Lotion
Easy and Budget-Friendly Homemade Lotion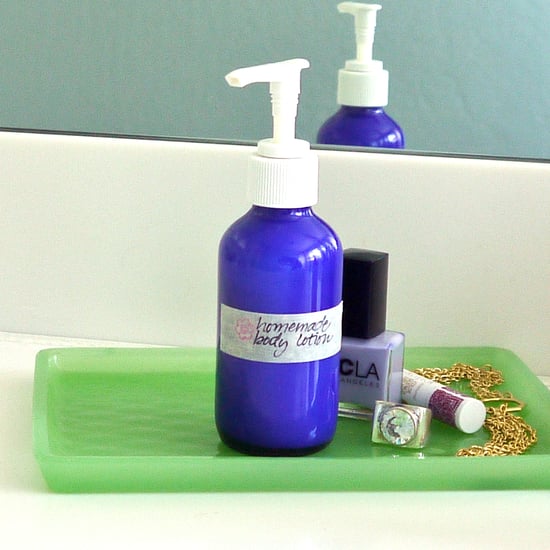 Stop spending money on expensive body lotions or ones filled with chemicals and try making your own from budget-friendly ingredients you can find at the health food store. Personalize the all-natural cream with your favorite scent for a soothing and lovely smelling moisturizer that costs less than $1 per bottle to make. Sans preservatives, this DIY lasts up to two months and also makes a memorable homemade gift for someone special.
Keep reading for the easy directions!
What You'll Need:
Small bowl
Grater
1/2 cup coconut oil
1 tablespoon shaved beeswax
10 drops essential oil
2 tablespoons distilled water
Hand blender
Small funnel
Directions:
Add the coconut oil to a small mixing bowl that's either safe to use in the microwave or fits over a small saucepan to create a double boiler. Coconut oil creates a smooth slightly sweet-smelling lotion that's also high in antioxidants, which is great for your skin. Grate and add the beeswax to the bowl, which you can find at your local health or craft store.
Place the bowl in the microwave and heat for short bursts until melted, stirring after each heating. Or place the bowl over a small saucepan filled half way with water and melt over medium heat.
Once the coconut oil and beeswax have melted, carefully place on a folded towel and add your favorite essential oil. Or use rosemary infused oil, which adds an earthy scent to the lotion and helpful antibacterial properties. Let the mixture cool for 10-minutes.
Now emulsify with the addition of one to two tablespoons water and the help of a hand blender. Don't have one? Add the mixture to a blender and pulse until the lotion is the consistency of thick pudding.
Use a small funnel or spouted measuring cup to pour into a container and your homemade lotion is finished! Store out of sunlight for best results.
Makes 6 ounces of lotion.