Homemade Pet-Stain Cleaner
Accidents Happen: Homemade Pet-Stain Cleaner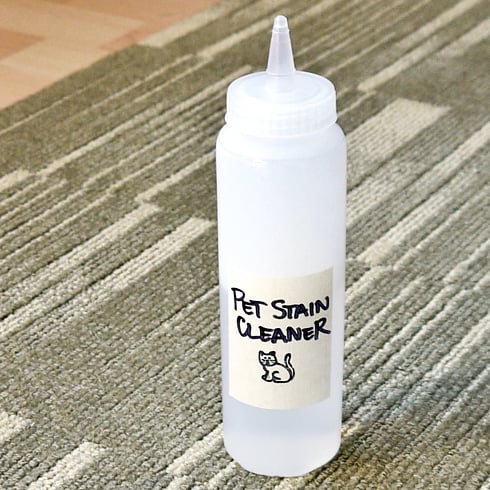 Pet owners know that accidents happen, so take action with this easy and budget-friendly pet-stain cleaner. Along with tackling discoloration, this concoction removes any lingering smell. Made with eco-friendly ingredients that you probably already have in your pantry, this DIY is safe to use on most carpets and fabrics that can't be tossed in the washing machine. Here's what to do:
Tackle the stain as soon as possible, blotting the urine with paper towels or an old towel. Just like with removing tough stains on carpeting, work from the outside in.
Before cleaning, spritz the area with equal parts vinegar and warm water, which deodorizes the urine and helps remove any discoloration.
Mix together 1 cup hydrogen peroxide, 1 teaspoon liquid dish soap, and 2 teaspoons baking soda in a squirt or spray bottle, and give things a good shake to incorporate the ingredients. Hydrogen peroxide is a natural cleaning agent that tackles the stain along with the dish soap, while baking soda helps whisk away any lingering smell. Hydrogen peroxide may alter colored carpets, so do a quick test to check for discoloration before dousing carpet or fabrics. Cover the stain with the cleaner, and gently massage into the carpet.
While the cleaning concoction is working its magic, lightly cover the area with tinfoil, which deters pets from resoiling the area. (Pets don't care for the way tinfoil feels on their feet.) Allow the cleaner to air-dry for several hours, and then vacuum.
If any unwanted pet scents remain, then spray again with the vinegar and water, which will really tackle deep-set smells in carpets and fabrics.