Homemade Reed Diffuser
Easy DIY: Homemade Scented Stick Diffuser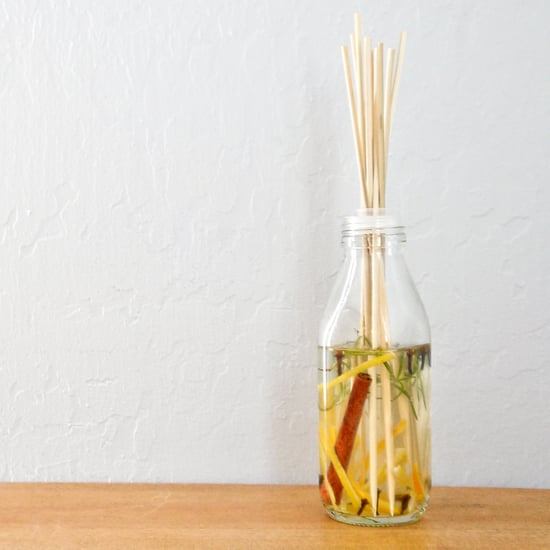 Don't toss those lemon and orange peels, ends of fresh herbs, or last bits of whole aromatic seasonings! Instead, use them to make sweetly scented homemade fragrance stick diffusers that will freshen your house. And upcycling a simple glass bottle works wonderfully — especially one with a pour spout. With bamboo skewers from your local grocery store, the finished stick diffuser looks chic while wafting a gentle scent. And this cute and easy DIY would also make an awesome gift.
Read on for the easy directions
What You'll Need:
Small glass jar or bottle
Bamboo skewers
1/4 cup rubbing alcohol
3/4 cup water
20 drops essential oil
Lemon or orange peels (optional)
Fresh herbs (optional)
Whole cloves, cinnamon sticks, or cardamom (optional)
Directions:
Select a small glass jar or bottle to use in this easy DIY. Using one with a plastic pour spout, like a small olive oil bottle, lessens the evaporation of the liquid. And you can find bamboo skewers at your local grocery store.
Clean out your spice cupboard and add small bits of seasonings to the jar, such as those few whole cloves hiding in the back of the cabinet, old cinnamon sticks, or cardamom pods. And you can add fresh herbs, such as rosemary, mint, or lavender. Lemon or orange peels gently scent the homemade diffuser. Simply reserve peels from citrus fruits then trim the white, or pith, from the peels. Thinly slice and add to the jar.
Now add the water and rubbing alcohol to the glass jar. Add your favorite essential-oil scent to the container. Give the liquid a bit of a swish to incorporate.
If your bottle has a pour spout, pop it back in and add the bamboo skewers to the jar. Allow the liquid to move up the sticks and then disperse. If using fresh lemon or orange peels, refresh the liquid after 30 days to prevent mold growth. Find the perfect spot to place your homemade scented stick diffuser and enjoy its sweet smell.