How-To Spend Your Tax Refund
5 Savvy Ways to Spend Your Tax Refund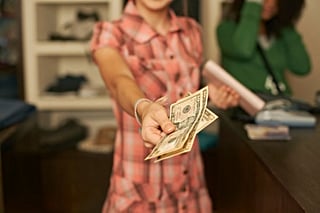 It's tax time, and as much as we begrudge the tax man, getting our refunds is always nice — especially since that can mean about $2,400 on average. So, as excited as we are to get a financial boost, just make sure you're making the most of your check and putting the funds to good use.
Put It Towards Vacation Time — If you've been waiting to take that vacation, now could be a good time. Put your refund to use funding some well-deserved time off to visit family, friends, or maybe a new destination you're dying to escape to.
Use It For Wardrobe Essentials — If your wardrobe needs a little sprucing up, use your refund to help amp up your work wardrobe. Money spent on a classic suit or a new work tote is an investment in your professional future. You know what they say — dress for the job you want. When you do, you're more likely to get noticed — and that's money well spent.
Invest — Take the refund and invest it now for even bigger returns later on. You might invest in your professional future by putting the money toward a business course or classes you've been dying to take. Even if it's a cooking class, maybe a yoga retreat, investing in your passion with the extra cash is a great way to finance your interests in, or outside, of your career field.
To get the rest of my tips just keep reading.


Pay Off Your Debt — If you're carrying a hefty balance on your cards or you're paying off student loans, take the chance to make a dent in your payments. Be smart about using your refund to pay down debt, and keep in mind that it all affects your credit score.
Simply Save It — Don't feel like you have to run out and spend your check just because you can. The best way to make use of the money is to put it in savings and hold on to it.