How to Address Paying For a Wedding Dress That's Over Budget
Ask a Savvy Bride: Mom Won't Support Over Budget Dress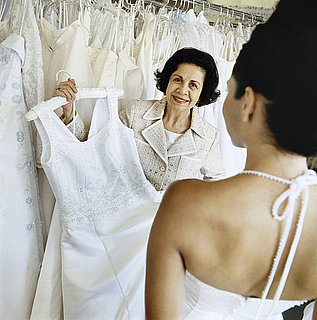 Wedding season can be stressful — particularly if you are the bride and trying to plan a dream day on a budget! If this dilemma sounds familiar to you, don't forget to submit your questions or stories to the Ask Savvy group.
Dear Savvy,
I'm getting married this Winter and my parents have graciously offered to foot the bill. We've secured the date and venue so my mom and I started the hunt for my wedding dress. Like many brides, I've been looking forward to this part of my wedding for years. We briefly discussed a gown budget, but she wasn't very firm on her price, which led to a huge blowout during our first appointment. I feel in love with a dress that was just a few hundred dollars over budget and my mom wasn't willing to even consider it. She says it's too expensive (taking alterations, shoes, veil and accessories into consideration) but I feel like it's my dress! I can't stop thinking about it — what should I do? Will she budge?
Want the Dress Daisy
To see what a Savvy Bride has to say about this, keep reading after the jump.
Savvy Bride says:
One thing I wish someone told me to consider when I was shopping for my dress were all the additions that come with buying a wedding dress, just like you noted. You might think the one you love is only a few hundred dollars over budget, but it could end up being a thousand dollars — or more — over budget when everything is said and done.
With that said, I understand the feeling of knowing a dress is your wedding dress. Consider how much you think you should spend total. If your mom is not willing to budge with her price, would you be willing to pay for the dress or your extras yourself? Maybe a compromise (or a contribution on your part) is the answer here. If not, remember that you've only been to one dress appointment — while you may think this dress is the one, you could find one you like even more if you just keep looking. And if you do, be sure to tell your sales associate the maximum amount you want to spend at the end of the day — you'll save yourself a lot of heartache getting that out of the way up front.
Good luck on your search, I'm sure you'll be a stunning bride no matter what you wear.
Ask anything budget-, etiquette-, or planning-related — well, almost anything — by posting your questions in the Ask Savvy group, and I'll find the right expert to help you out. If you are planning a wedding, already happily wed, or still looking for Mr. Right, start sharing your big day with our community. Don't forget to check the wedding content box on your post.