How Will American Airlines Bankruptcy Affect Me?
How the American Airlines Bankruptcy Will Affect You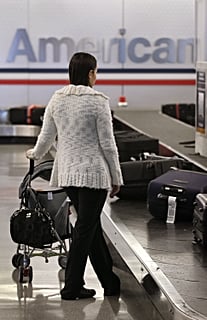 There's always a feeling of confusion when a major retailer goes bust, but what we really want to know is what it means for us and how we'll be affected. American Airlines announced it was filing for bankruptcy this morning, which leaves loyal customers wondering what's going to happen to their miles and if it's going to be harder to book a flight with them. Here's a quick roundup of burning questions you might have:
Will American Airlines go out of business and stop flying?
When a company files for Chapter 11 bankruptcy, it doesn't mean it's going to close shop and disappear. It just means the airline gets time off from creditors to do some financial reorganization. Chapter 7 bankruptcy, on the other hand, would mean that business would close. American Airlines has not filed for that, and there seems to be no plans to do so. Airlines such as Delta, Continental, and United have all filed for bankruptcy and are now stronger for it after taking the time needed during the bankruptcy period to put their books in order.
Can I still use my miles?
Yes, the airline says that the frequent flier program will not be affected, and you'll be able to redeem and use your miles. In the past, airlines that have gone bust, such as Pan Am and Eastern, transferred miles to the airlines that purchased some of their assets.
What's going to happen to my flight?
You don't have to worry about the tickets you currently hold, according to Rick Seaney, the CEO of FareCompare, a company that helps customers find air travel deals online. "Tickets won't be an issue because of the kind of bankruptcy they're filing," Rick tells Time. The airline has also said it will continue to honor tickets and reservations.
Read on to learn how you should manage your miles.
Does this mean we can expect lower airfares from the airline?
Going forward, American Airlines will cut back on flights, which usually means an increase in ticket prices. However, the company will want to retain customers so they may want to spring great travel deals and bonus mileage promotions on customers. It can go either way, so it's just a matter of waiting it out to see what happens.
How should I manage my AA miles?
Although American Airlines has said it's "business as usual," and experts say that the chances of your miles becoming defunct are very low, there is still a possibility. Brian Kelly, founder of The Points Guy blog, has recommended