How to Buy an Engagement Ring
Engagement Ring 101: Things to Know Before Buying Your Love Bling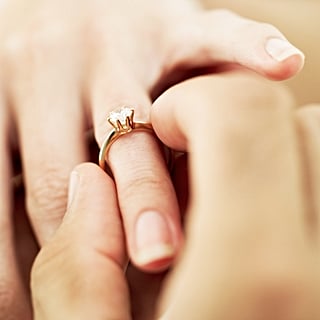 Wedding season is definitely in the air — my calendar is booked with weddings! If you're thinking about getting more serious with your honey, there's generally always a ring involved. And if you don't know the first thing about rings . . . join the club. Thankfully, there are experts like CEO Debi Wexler of diamond etailer WhiteFlash.com, to spill the deets on engagement rings. Here are some things Debi says ring-buying newbies should know:
Get Your Certification."They should know something about buying a certified diamond. No matter where you go, the certification from a major well-known lab will give the consumer peace of mind. Don't buy a diamond without one."
The 4 Cs. "Also it's important to know something about the 4 Cs. Even more important is to learn all about the cut of the diamond. When it comes to buying a round brilliant or a princess, cut is absolutely essential for bringing out the overall best performance of a diamond."
Do Your Research."Whether buying from online or in a store, learn about the store by using reference resources on the Internet like iVouch, Google, Yahoo!, or Yelp. Past customers will tell you what you need to know in order to trust the company you are buying from. This is such a major decision in a guy's life that he should really take a few weeks to do some deep research. I would also be cautious buying from a family friend. If you do so, then at least do research on the diamond you are buying. And once again, buy a certified diamond from a major reputable lab."
To learn more about engagement rings, read on.
There's No Rule For Engagement Rings. "A guy should spend as much as he can afford and for sure not borrow money to pay for the diamond, as there will be a lot of other expenses once she says 'yes'. It's often said that a man should spend twice his monthly salary on a ring, but I have a strong suspicion that this is a marketing ploy from the diamond industry. Which brings up another point: there's no rule that you must give a diamond engagement ring."
What Makes a Tiffany Ring Special. "A Tiffany ring is special because of the name 'Tiffany' and also the simple but elegant style. Like Audrey Hepburn, known for being cosmically chic, the Tiffany-style solitaire is in the same league. However, there is a premium to pay on a super brand like Tiffany. You can find the same Tiffany style on many websites today. Tiffany-style solitaires really allow the guy to show off his D flawless diamond."
Shop Online to Cut Costs."The best way to cut down the cost is to shop around on the Internet. Although the Internet etailers have similar overhead structure costs, they have to be very transparent in how they present the diamond to the consumer. This transparency comes in the form of diamond images as well as prices. I would really suggest that the consumer focus on cut more than color, clarity, or size. With an ideal cut diamond cut to perfection, the consumer can sacrifice on color and on carat weight as the light retention brings out brighter color, brighter flashes, and a visual of a larger diamond."