How to Choose Wedding Shoes
Wedding Saving Tip: Go Low-Budg on the Shoes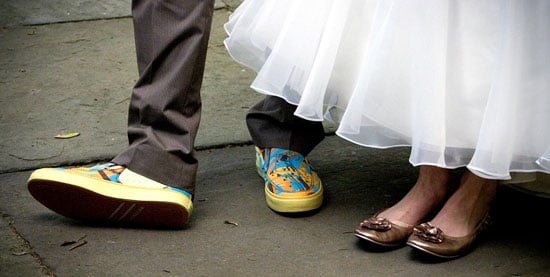 There are plenty of things you may be tempted to splurge on for your wedding day, but there's one place you should definitely save: the piece of your outfit almost no one will see. Wedding shoes are an expense that can get out of control quickly if you let it, but before you reach for those beautiful white satin Jimmy Choos, stop and think.
For a few matrimonial footwear considerations, keep reading.
Are you wearing a floor-length gown on your big day? If so, chances are your shoes won't be showing much anyway.
Will you be walking through any grass, gravel, or (gasp) dirt during the ceremony or reception? If you plan on off-roading it at all, consider the toll that might take on your pricey kicks (hint: grass stains and white satin are a bad combo).
Do you plan to change into comfy flats for dancing during the reception? In that case, your wedding shoes won't actually be on your feet for very long.
If you answered yes to any of the above, plan on the cheapest stylish and comfy pair you can find. Of course, if you plan on wearing a tea-length gown and will be indoors on solid ground all day, it may be worth splurging for designer shoes if you have your heart set on them.
Source: Flickr User TenthMusePhotography