How to Clean a Closet
How to Clean Out Your Closet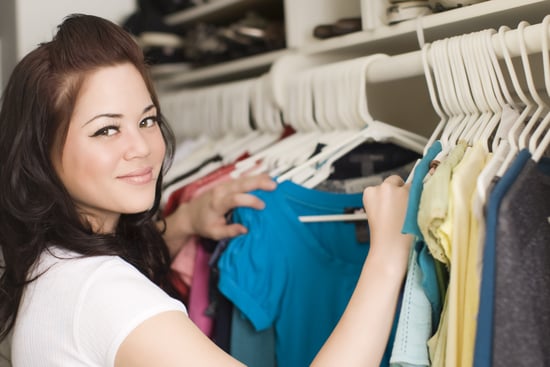 Getting dressed is a much more enjoyable process when you have a neat, organized closet to rummage through each morning. Stray belts, mismatched shoes, and a pole lined with tangled, broken hangers makes for extra, unnecessary stress. Sure, cleaning out your closet may be an elaborate process, but the results will have a major, time-saving payoff. Not sure where to begin? Follow this step-by-step guide for a smooth closet-cleaning experience:
Remove and Classify
The first step is to take out everything — yes, absolutely everything. It's the only way to know exactly what you have and exactly what you need.
As you remove your items, sort them into different categories: things to keep, things to store, things to give away, and things to toss. This applies to everything, from clothing and shoes to jewelry and handbags.
Bag up the to-give and to-toss piles, then box up the seasonal items you'd like to stow away for a while. Sweaters, puffy jackets, and Winter boots take up lots of space, so keep them in a different closet or attic until the Fall.
Do a Thorough Cleanse
Once your closet is completely cleared out, it's time to start dusting, wiping, and washing. Clean every shelf and drawer, then sweep and mop the floor.
Consider adding an air freshener that's specifically designed for closets, like the Ornascent by Compac Closet Freshener ($12), to maintain a clean scent.
Keep reading for more closet-cleaning tips.
Evaluate the Space
Take a step back and ask yourself, "How can I maximize this space?" Do you need an extra shelf? A set of drawers? Hanging hooks? Try to see your closet through fresh eyes, and decide if there's a way to create more surface area for your items.
Determine how the previous arrangement might be improved. Were you able to reach everything? Were there any items you'd have grabbed if you were able to see them?
Arrange For Function and Appearance
Begin organizing according to what's practical. Put the items that you wear the most toward the front in an easy-to-grab location, then reserve top shelves for clothes that rarely see the light of day.
Once items are grouped by type — blouses, skirts, jeans, etc. — take it a step or two further and arrange by color and/or fabric. You want outfit-building to be a simple, streamlined process, so organize in a way that feels natural for you.
Sort Your Accessories
Whether you have piles of shoes or just a few favorite pairs, decide on your preferred form of storage: shelves, boxes, or an over-the-door rack. Keep things simple and sort by type, color, or occasion.
For purses, you can use shelf dividers to keep the bags upright. Another idea? Display them on hooks across one of your closet walls.
When it comes to hats, scarves, and long necklaces, hooks are your best friend. If you have extra space, you could also invest in a closet dresser or a nice jewelry armoire.
Do you have any closet-cleaning suggestions? Share them in the comments below!