How to Clean Your Feather Bed
Save Money and Clean Your Feather Bed at Home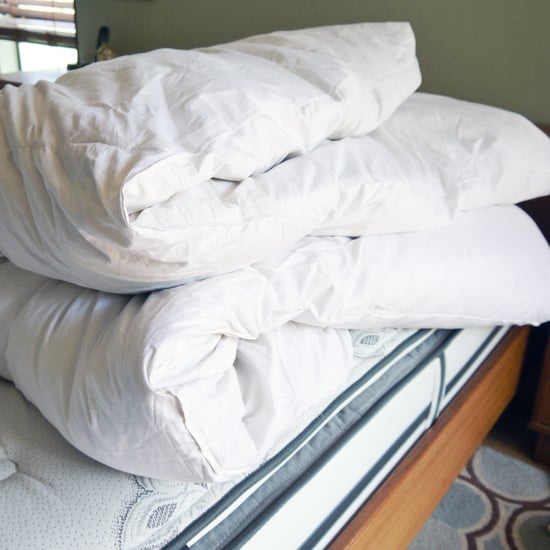 There's nothing better than sinking into your freshly fluffed feather bed at the end of a long day, but if it's feeling a bit flatter — and grubbier — than usual, then it's time for a cleaning. Instead of taking it in for a high-priced professional laundering or potentially ruining your own washing machine with a feather eruption, clean your feather bed with a few items you probably have around the house. You'll love drifting off to sleep on your refreshed feather bed while dreaming of all the ways you'll spend the money you saved by cleaning it yourself.
Keep reading for the directions:
What You'll Need:
Vacuum cleaner
Vinegar
Hot water
Spray bottle
2 cotton socks
2 tennis balls
Laundry detergent
Directions:
Most feather beds can be tossed in the washing machine, but a totally soaked feather bed holds lots of water, turning drying time into an all-day process. And damp feathers can mold and deteriorate, which doesn't make for sweet dreams. If your feather bed is enclosed in a cover, then remove and wash according to directions. Now shake and fluff the feather bed, releasing any loose feathers and distributing the bulk.
Using the fabric attachment on your vacuum-cleaner hose, give your feather bed a good vacuuming, sucking up feathers that have escaped and any dust mites that are lurking about. Flip and vacuum the other side.
Add one cup hot water and one cup vinegar to a spray bottle, and spritz all over the feather bed. Fluff the bed and then spray again. Vinegar is naturally antibacterial and helps clean and refresh the fabric of the feather bed and the feathers inside.
Wrap two tennis balls in the socks and secure by tying a knot or wrapping with rubber bands. Mix one cup water with a teaspoon of a laundry detergent that's made for delicates, and then quickly dip the balls in the liquid. You can also add a few drops of essential oil to the liquid. Place the tennis balls and the feather bed in a dryer set at a low setting, and tumble dry for 30 minutes. While drying the fabric, the detergent-laced tennis balls will help refresh and clean your feather bed and keep the feathers from clumping together.
Remove the feather bed, give it a fluff, and place it back in the dryer for an additional 30 minutes. Continue fluffing and tossing back in the dryer until the feather bed is completely dry.
Your feather bed is wonderfully clean and ready for a great night's rest! For an extra bit of freshness, place the clean feather bed outdoors in the sun for an hour, which lets the sun naturally heat the feathers.