How Comfortable Are You Lending Things To Friends?
Beg, Borrow, Steal — Where Do You Draw the Line?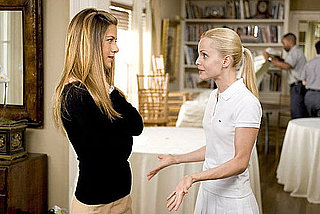 In college I had a friend who liked to "borrow" my clothes. I use the term loosely because we had very different interpretations of what borrowing meant. The first time it happened, I came home to find my roommate wearing my sweater, walking around our apartment as if nothing was out of the ordinary. The only problem was she had never asked whether or not she could borrow, or rather wear, the item — hence my surprise at seeing her in my clothes.
From there, things only escalated. While I told her I would really appreciate her asking whether she could wear or use something of mine, she didn't really get the message. Instead of asking me directly, I'd come home to find a Post-It note detailing what items she'd selected from my closet that day, something like: "Hey, just so you know I borrowed your red sweater and black jeans today. Hope that's O.K." To me, that didn't really seem like asking permission, but decided to let it pass and not make too much of it. That all changed when her sister came to visit and left with a few of my clothing items in tow. I didn't realize they were gone until I received an email from her the following day promising me she'd return what she'd "borrowed."
To see how I dealt with the borrowing drama, read more.
The email finally pushed my limits. I might have been O.K. with a roommate borrowing clothes, but a visitor taking clothes from my place and toting them with her on her way out of town wasn't something I could handle. So, I confronted the situation head on. My boundaries weren't being respected, but I hadn't made that clear because I was too afraid to make a big deal of it. Lesson learned — these were my clothes, I paid for them, and while some girls share no questions asked, that wasn't my style. I had to speak up, and finally, laid out some ground rules for how clothes might be borrowed or used — with my explicit consent.
It might seem extreme, but in cases where your comfort level is being tested, in any situation, you have to know your boundaries and make sure those around you know and respect them. Now, I want to know, have any similar experiences? When it comes to borrowing — where do you draw the line?