How to DIY a Sash on Your Wedding Dress
Remember, You Can Always Spruce Up a Basic Dress
If you're in the market for a wedding dress, you've probably noticed: the more bells and whistles a dress has, the higher its price tag. But if you've got your heart set on a certain dress accoutrement, what's a girl to do? Three words: DIY.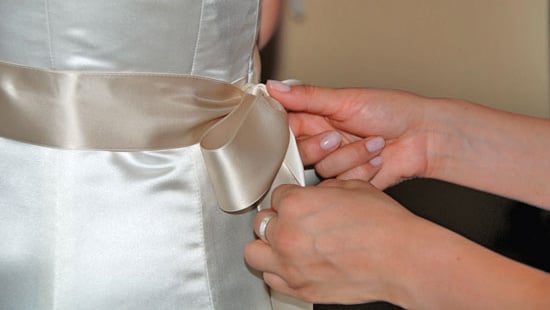 When I tied the knot, I knew I absolutely wanted a dress with a sash — I loved the way a subtly contrasting ribbon looked cascading down the back of a white dress. The problem was that every dress I found that fit the bill also broke the bank. Luckily, my crafty BFF pointed out that, of all the things that could easily be added to a dress, a piece of ribbon tied in the back probably tops the list.
To find out what I did, keep reading.
So, I found a simple strapless gown from J.Crew that fit like a glove, on clearance for $75 (yep, you heard me). With the help of my pal, I selected a satiny, champagne-colored ribbon for the sash. Then, on the big day, we simply tied it around the dress's empire waistline and let it drape down the back of the dress. And it was completely removable, of course, so if I choose to pass my dress down to a daughter or niece someday, she can customize it to her liking, too!
Photo courtesy Kristyn Stroble Photography