How to Deal With Friends Affecting Spending Habits
Don't Let Friends Warp Your Budget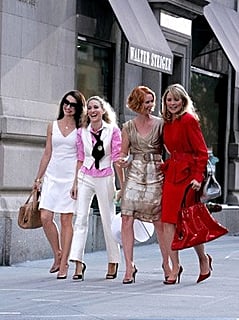 Just because you've made sticking to a budget a priority this year, doesn't mean all of your friends will share your goals. It's pretty likely that not all of your friends have the same budget and spending parameters. Still, that doesn't mean that your financial objectives have to suffer in their company — or that you have to find new friends. Just be aware of how your spending habits change, and be your own best advocate to get your budget back on track.


Skip the Mall — I have a few friends I just refuse to shop with, for a few reasons. I've been convinced to splurge on countless items that were never in my budget, falling prey to the flattery of good friends, or to keep up with the spending habits of a friend who lives way beyond my means. No more. This year, I'm finding new activities to do with my girlfriends. Try browsing a bookstore, going for a walk, or working out together. These activities will take spending large sums of money out of the equation all together.
Get more advice after the jump.


Yes to Coffee, No to Dinner — My friend's expensive taste isn't exclusively reserved for retail. She also has an expensive palate, and dining out together usually means a three-course meal and a nice bottle of wine. You don't have to say no to dinner every time, but fitting a gourmet meal into the budget once or twice a week is bound to deter financial goals. Instead, suggest meeting for tea or coffee once a week to catch up. You'll still get the same quality time, minus the huge check for dinner.
Be Honest — The best thing you can do for your friendships and your budget is create a plan where they can coexist easily, and that means being honest. There's nothing wrong with explaining your financial objectives to your friends. You don't have to reveal all the details or the state of your checking account, but make your spending priorities clear. For instance, you could say, "I'm not doing big dinners a lot this year, since I'm focused on saving money for my vacation." You may find that once you break the ice, your friends follow suit with their own resolutions. At the very least, you'll relieve yourself of any anxiety you face when out with the girls, and regain control of your finances.