How to Financially Prepare For a Baby
Get Your Bank Account Ready For a Baby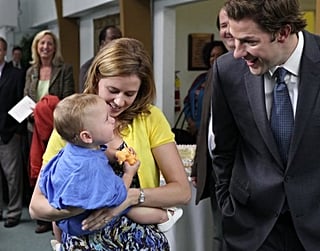 Editor's note: The following is a guest post by Kimberly Palmer, the author of Generation Earn: The Young Professional's Guide to Spending, Investing, and Giving Back, and personal finance columnist at US News & World Report. Take it away, Kimberly!
Along with the cute outfits, nursery, and rocking chair, there's one more thing to get ready for baby: Your bank account. Because along with being cuddly and adorable, babies are also insanely expensive. Just how much will one end up costing you? Well, according to the latest estimates from the Agriculture Department, middle-income couples (earning between $57,000 and $98,000) spend around $12,000 a year on their babies.
Luckily, parents don't need to come up with all that cash at once. In fact, we often don't even realize when we're spending it, because it includes the fuzzier costs of moving to a bigger home and buying more groceries in addition to the more obvious ones, such as baby clothes and baby sitters. There are ways, though, to start priming your accounts for an extra family member in advance, so you don't have to worry about bouncing any checks during your first years together. Whether you're pregnant or your future baby exists only in your daydreams, here are some ways to start getting ready:
1. Figure out your work (or no work) plan. Babies often make their biggest financial impact on their parents' earning potential, since new moms (and dads) frequently decide to scale back their work hours in order to spend more time with the new love of their lives. In this country, even a relatively brief maternity leave of three or four months is usually unpaid, which means new parents have to live off savings at a time when they're also taking on more expenses.
Meanwhile, parents who continue working full-time take on the mega-cost of nannies or daycare, which can average well over $12,000 a year, especially in cities. One way to mitigate the budget shock: Practice living off one salary before the big birth day, and sign up for childcare flex spending accounts if your employer offers them, in order to take advantage of the tax benefits.
For more tips on how to get your bank account ready for a baby, read on.
2. Consider the hidden costs of child care arrangements. Daycare might seem like the cheapest option, but it also means exposing babies to more germs, which can do wonders for their immune system in the long-run, but in the short-term, it often means parents have to miss work. Parents with flexible schedules might decide they're happier with baby-sitting coops, babysitters from local colleges, or even an au pair. Because the "perfect" child care arrangement can be so hard to find, parents-to-be should star their hunt almost as soon as they discover they're pregnant.
3. Just say 'no' to the $1,500 stroller, crystal-encrusted pacifier, and all-organic layette sets. There's something about being pregnant that makes us want to shop (the hormones, perhaps?), but we can save a lot of cash, which can be put towards better purposes post-birth, by skipping the spending spree. Many items, such as exersaucers, changing tables, and clothes, can be purchased second-hand or borrowed. (Cribs, car seats, and high chairs usually should be bought new, though, to make sure they follow the latest safety standards.)
4. Pick a target savings goal and do whatever it takes to reach it. Whether you're shooting for $500 or $10,000, storing up a little baby fund can help give you a sense of relief about handling some of those extra costs, as well as unpaid maternity leave. Even the basics like diapers and formula can end up costing much more than sleep-deprived new parents thinks they should. New moms and dads also often find they want to splurge on certain services, such as grocery-delivery, post-partum doula help, or cleaning aid, especially during those early months.
If you know your work arrangements will change, because you'll be scaling back or taking a break from the workforce, then consider living on one income even before the baby arrives, to get in the habit and minimize the income shock later.
5.  Get your papers in order. Estate planning isn't a fun topic, but it's an important one for new parents. That means setting up life insurance, drafting a will, and selecting guardians. The good news is that life insurance is relatively cheap for 20, 30-somethings, and 40-somethings since the chance of tragedy is so low. Getting your accounts organized so another person could easily understand where your money and assets are located is also a good idea.
Now that the financial stuff is out of the way, you can focus on the fun side of preparing for parenthood! Reading What to Expect When You're Expecting, watching Knocked Up countless times, and practicing swaddling dolls is just the beginning. Congratulations!