How to Get in Shape For the Wedding
Budget Bride: 6 Exercise Tips to Keep You and Your Wallet in Shape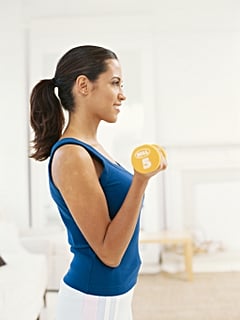 Wanting to look extra special on your big day is a no-brainer. Many brides start on their fitness routine right when they start planning for their wedding. Dana LaRue from The Broke-Ass Bride says it's important to exercise, eat healthy, and sleep well during wedding prep because it "will keep wedding stress at a minimum and help you manage what stress does worm its way in much more effectively." Here's some savvy advice from Dana on how to be a buff bride on the cheap:
Online Deals: "Group-buying sites like Groupon, SocialBuy, LivingSocial, PopSugar City, and more are popping up nearly daily — and most feature a large amount of fitness packages at steep discounts. It's a great way to affordably try new workouts and let variety keep your fitness spice alive!"
Great Outdoors: "Get outside! Taking long walks with your partner while discussing the more banal details of wedding planning is a great way to sneak in some fitness and reconnection with nature while checking a few items of your to-do list."
Lifelong Routine: "Don't just regard prewedding fitness as a way to look good one one day in one dress. Think of it as setting yourself up for the "in health" part of your vows. Committing your life to your mate can also mean committing to taking good care of yourself so you're a better partner, and so that you have many, many years ahead to enjoy life together. Viewing it as more of a lifestyle change than a prewedding diet will help you keep perspective and be more forgiving of small missteps along the way."
Healthy Wedding Gifts: "Registries are no longer just for kitchen gadgets and linens. Register for exercise equipment or a gaming platform like the Wii or Kinect that also have fitness applications, and reap the rewards in fun as well as fitness!"
Read on for the rest of the tips.
Stretch It Out: "Yoga is an excellent way to find fitness. Sign up for a partner yoga class with your mate to learn postures that rely on each other's support. It will build intimacy as well as strength, and all that sweaty skin-on-skin might inspire more exercise when you get home (wink wink)."
Dance It Off: "Skip the strip club for your bachelorette party and sign up for a group pole dancing or burlesque dance class with your girls. Share some of your new skills with your partner, and you can both reap the benefits!"