How to Host an Art Party
Host a Budget-Friendly Night In: Art Party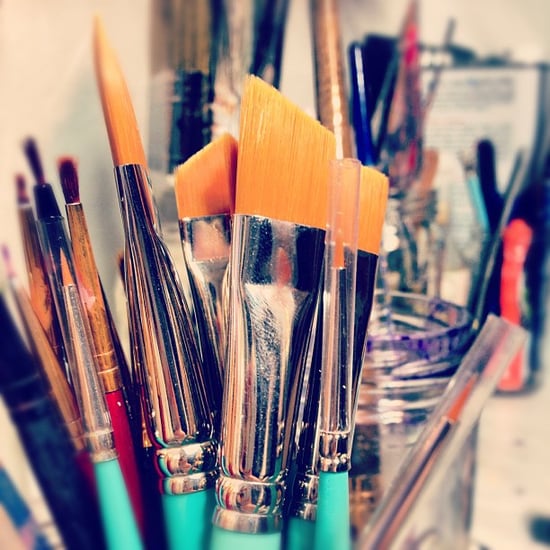 With so many potential projects filling up your Pinterest DIY boards, hosting an art party is both budget-friendly and productive. With a few simple steps, you can turn your living room into an artist's studio and knock some of those must-try projects off your (ever-growing) to-do list.
Protect your space: Be sure that you stash anything you wouldn't want to get messy — vases, coffee-table books, place mats, etc. You'll want to cover your work surfaces with newspaper, recycled paper bags, or sheets of plastic that you can purchase at the hardware store.
Have guests pick a project and bring their supplies: If your guests select their own projects, then you can rest assured that everyone will be devoted to working on something they're truly interested in. Art supplies can really add up, so be sure to ask your friends to bring what they need to complete their projects. You can provide the basics like paintbrushes, pencils, glue, and paper, but everyone should be sure to pack a tote stocked with their project-specific materials.
Create the perfect playlist: After you send out your invitations, collect song requests or create a collaborative playlist on Spotify so everyone can contribute their most inspiring tunes. Having the music flowing will fill the gaps of concentrated silence while your guests are focusing on creating their masterpieces.
Admire your finished work: Be sure to celebrate your hard work with a gallery showing at the end of the night. Since you won't want to eat while you work (mixing paint and dip is not ideal), this would be the perfect time to bring out some appetizers. You could even incorporate some wine-tasting into the evening.
Share the love: Don't be afraid to trade projects with your guests. Sometimes artwork doesn't turn out exactly as expected, and you might have more fun swapping your creation than keeping it! Besides, what's cooler than having your friend's original artwork adorning your wall space?  
Source: Instagram user meganvangroll