How to Host a Budget-Friendly Thanksgiving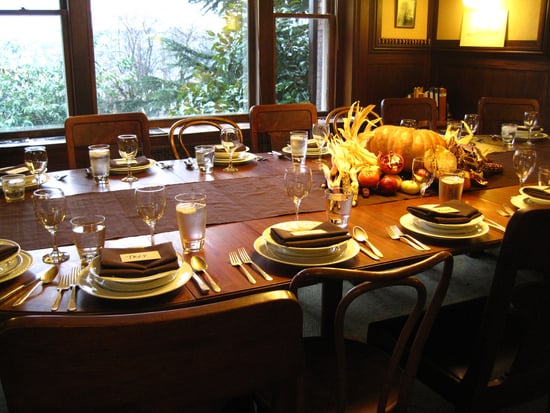 Between stuffing the bird and setting the table, hosting Thanksgiving can bust the budget. But with some creativity — and help from your guests — inviting friends and family to your home for a bountiful celebration can be economical without anyone even realizing it.
Max it out: Plan ahead by determining how much you feel comfortable spending on hosting Thanksgiving and stick to it. Cut back on items that may be a splurge, such as specialty ingredients or expensive table decorations, and focus on what is essential for the holiday celebration.
Delegate: When inviting friends and family, ask them to bring something that enhances the meal — and also cuts down on your spending. From a bottle of wine to a purchased pumpkin pie, requesting guests to provide Turkey Day essentials lets everyone feel as though they helped make the day special.
Keep reading for more budget-friendly Thanksgiving tips.
Make a list: Now that you know your budget, make a list of all the items needed for hosting Thanksgiving. From dinnerware to food items, write everything down and keep it tucked close so that items can be checked off as purchased. This way, you won't make the mistake of investing in something twice!
Buy in bulk: Take advantage of Thanksgiving deals at the grocery store. If canned corn is on sale when purchased in bulk, then realize that you're getting a great deal and will have corn tucked away in your pantry potentially for months. Breadcrumbs, canned soup and vegetables, and stocks are often on sale this time of year and are staples that provide quick and healthy meals all year round.
Shop around for you gobbler: Budget your time and money by checking around for the best price on your bird. Your Thanksgiving turkey is the showstopper of the day and usually the biggest budget-buster, so finding one at the lowest price per pound, that also fits your style, is a serious way to stick to your Thanksgiving budget.
Make your own decorations: Even if you're not crafty, creating a stunning centerpiece is as easy as grouping candles on a silver tray surrounded by pine cones or using fabric paint and Fall leaves to create a Thanksgiving tablecloth.