How to Karaoke at Home
Host a Budget-Friendly Night in: Karaoke at Home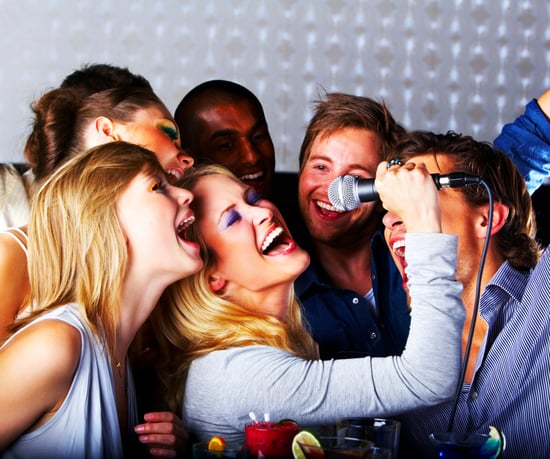 Bring up the topic of karaoke, and you'll be surprised how many closet wailers come out of the woodwork. So why not bring the karaoke night from the bar to your living room? It might seem like a complicated event to host, but with these simple steps, you'll have a home full of singers in no time — for better or for worse.
Get the right equipment. One of the biggest challenges to this at-home party is getting set up. Karaoke machines run anywhere from $40 to $700, but there's an app that will cost you nothing and save you plenty of time. Karaoke Anywhere works on both iPhone and Android and features more than 50,000 karaoke songs. All you have to do is plug your phone into your TV. Plus, it lets you record and share with other people. Just remember to test it out before your guests arrive.
Set the scene. To guarantee a great time, the right atmosphere is key. Make your guests feel like they've been transported to a karaoke club by bringing in colored patio lights or shining a spotlight on the center of attention. For a faux stage, set up a backdrop by using a solid-colored sheet that lets the singing star stand out.
Loosen up. Sometimes it's hard to get people to participate, at least at first. Help guests feel comfortable and get in the mood by having some drink and snack options and making the event fun by giving out prizes for most memorable performances — what "memorable" means is up to you and your guests!